Industry stalwarts and aspirants come together to create a platform to discuss avenues in the media, communications and design industry
by Suman Gupta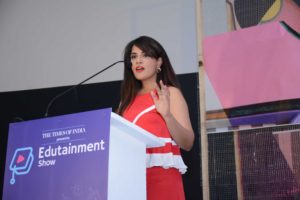 Mumbai, May 2017: The 5th Edition of India's largest educational exhibition and summit, the Edutainment Show' 2017 ended on a high note on 20th May 2017 at Hotel Sahara Star,Mumbai. The Edutainment Show, organized by Event Capital (a Laqshya Media Group Company) aims to bring together renowned professionals from the media, communications and design industry and young aspirants looking to pave their path in the industry.
The crowd at the event witnessed numerous industry bigwigs sharing their experiences in their respective fields. Day II began on a great note with RJ Malishka opening the summit followed by talks on various path breaking topics like sports and media, image management, designing a TV channel, how to talk creativity with your parents and many more. Theatre and Film actor Richa Chadda threw some light on the art of creating films while Roshan Abbas along with Rraj Kaushal (writer, director and Ad Man),Tarasame Mittal (founder of TM Talent Management) and Ankur Tiwari (Musician and Storyteller) drew in a big audience, discussing the many perks and tips on making profit out of your passion. Two of the youngest speakers of the summit Anamika Changrani Rastogi (11 year old) and Azadeh Changrani Rastogi (9 year old) introduced the audience to the concept of kids creating art for a cause. Dharavi Rockers wrapped up the summit with their rocking performance using the instruments made of junk.
Day I of the event witnessed renowned film director, Ramesh Sippy who spoke on Careers in Media and Film; Fashion Designer, Nishka Lulla discussed Entrepreneurship in Fashion. It also saw other industry titans like casting director Mukhesh Chabbra, photographer Jitu Salvani, Ad king Prahlad Kakar amongst others. Various workshops were conducted over the course of two days on topics like Festival Design, Teamwork, Print and Making, Photography, Film class etc.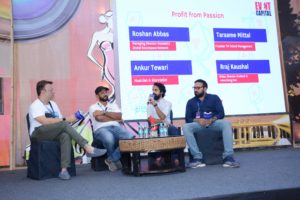 In a first-of-its-kind initiative, aimed at bringing together the media, communication and design education sectors, the fourth edition of The Edutainment Awards was held on 19 May, 2017 to recognize and felicitate efforts made by educational institutes to impart quality education under multiple disciplines. Conducted in two stages, the Education Awards was the culmination of a comprehensive assessment and performance review of various key stake holders by a jury comprised of eminent personalities known for their contribution to education. Some of the Winners of the Edutainment awards were Xavier Institute of Communication, Mumbai for the Best Journalism School; Pearl Academy, Delhi-NCR for the Best Design School; ISDI WPP School of Communication, Mumbai for the best emerging media school; Pearl Academy was also declared as the best emerging design school; MICA Ahmedabad was declared as best post graduate mass communication school. This year, BW Business World and exchange4media Group powered the awards.
Speaking on the success of the summit,Mr. Deepak Choudhary, Co-Founder & Director, Event Capital, said "The fifth year of Edutainment Show has created new benchmarks for us as event property owners, and with over 8,500 media and design aspirants attending the show over two days for enriching panel discussions and interactive workshops. We had over 100+ speakers sharing their professional experiences in the creative industry, and over 45 institutes showcased their courses to the students intending to chart their career in this space. We hope to take this forward and make it better with every edition."