by Suman Gupta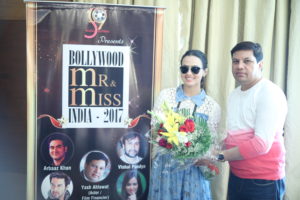 Studio 19 Films announced auditions in Ghaziabad and Delhi for First ever Delhi's biggest Bollywood Event, "Bollywood Mr. and Miss India 2017, where one of the jury member Actress Sana Khan ( Wajah Tum Ho fame ) and Actor and founder Studio 19 Films Yash Ahlawat were there for the announcement of initiating Delhi/NCR auditions in Radisson Blu. They announced and invited applications for the same.
Sana Khan and Yash Ahlawat – jury members for the finale announced and invited participations for first time ever Bollywood Mr. and Miss India 2017 in New Delhi to come participate, showcase their enigma and win a golden ticket to enter Bollywood.  
Bollywood Mr. And Miss India 2017 is a pageant with fantastic opportunity for all aspirants to live their dream of winning a title and taking the first step for being recognized as a brand. Sana Khan and Yash Ahlawat came to Radisson Blu, to invite for the first Bollywood Mr. And Miss India 2017 and participate in the auditions to be held at different locations in Delhi NCR and Ghaziabad. Sana Khan was there for a media interaction.
A Grand Finale will held on 24th June 2017 at Crowne Plaza ,Rohini, New Delhi where B Town celebs like Mr. Arbaaz Khan(Actor/Director/Producer), Ms. Sana Khan (Actress), Ms. Claudia Ciesla (Actress),Debina Bonnerjee(Bollywood &TV star)Gizele Thakral (Film Actress), Simran Kaur (Actress , serial- Agniphera),  Vishal Pandya(Film Director), Ashwani Choudhary (Film Director), E Nivas (Film Director),Anubhav Singhna(Film Director), Mr. Yash Ahlawat (Actor/Film Financer) and a lot of high profile dignitaries of Delhi will be present.
The Mega Finale Audition will be organised in New Delhi with many rounds prior announcing the winner.  Winners in different categories will be adjudged by the jury.
This pageant is been conducting auditions in 64 cities, so that maximum aspirants get an opportunity to participate. Expert panel of choreographers, supermodels and celebrities will be conducting the classes, ensuring that no deserving candidate misses an opportunity to shine. The official Choreographer for the event is Mr. Vijay Roy. Grand Finale will be held in front of celebrities, bureaucrats, high profile dignitaries, page 3 & all the major media!