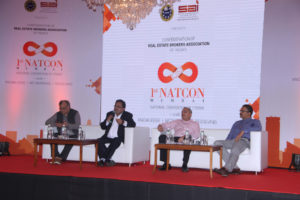 Suman Gupta/MNE
Confederation of Real Estate Brokers association of India(CREBAI) is proud to announce its 1st national convention on 9th of January, 2017 and invite your gracious presence of Dynamic Personalities from Real Estate world ,prominent Builders, Architects ,Vip's, Bureaucrats to witness the 1st ever National Convention in city of Mumbai at Hotel Sahara Star, vile parle(east)  on Tuesday ,9th January, 2017.The whole day seesion is divided in five parts and that it will be an enlightening and a golden opportunity to be in company of legendry personalities of Real estate world with profound indepth knowledge sharing on the current changing real estate scenario in India in light of revolutionary changes in the real estate sector witnessed ever .
CREBAI has evolved and gloriously emerged as dynamic conglomerate of hard core real estate professional organisations and groups ,who have worked tirelessly to contribute to the growth and development of real estate professionals in our country both through education , training, workshops and guidance in the era of strongly emerging new policies of the government in the real estate sector like The RERA bill, GST and the Benami property act.
CREBAI has been in the Forefront towards enlightening the government bodies of the problems faced by the REAL Estate brokers Fraternity and will continuously and tirelessly work towards educating and resolving issues faced by the Real Estate brokers.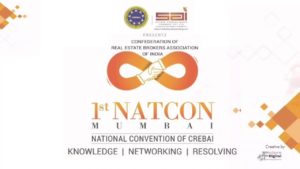 In our convention we shall highlight the following issues faced by the Real estate brokers fraternity;
1.(a)The Real Estate Agents are charged with Registration fees under the RERA act to market under construction properties and if the BUILDER fails to honour their dues ,then there is no recourse under RERA act to recover their rightful brokerage dues through the RERA authorities.
(b)Black money can be curbed .If the builder /seller of property may tear a cheque in favour of any unregulated entity and convert into cash and at the same time show expenses in their books of accounts. As there is no defined percentage of brokerage to be written or being allowed for writing off expenses in books of accounts, this could largely be misused by builders. Hence the percentage of brokerage should be well defined and regulated and should be allowed only to RERA registered real estate brokers.IN words of our National President , Shri Vikram Mehta ,he has appealed with the government to approve a mininmum of 2% brokerage mandatory on sale /purchase of Real Estate throughout India
(c) Moreover ,RERA registered brokers should be given protection under the RERA act if builder fails to honour his obligations to the buyer as The real estate broker also becomes liable if the builder defaults. There is no protection to the RERA registered brokers if the builder fails to honour their dues but all other punishments to the builder as well as the consumer are well defined.
Unregulated entities charge without giving credible services and create ruckus over brokerage payments, hence becoming nuisance .Hence they should be banned ,and a clause needs to be introduced under RERA act to forbid unregulated real estate brokers to practice and stringent penalties to be imposed.as the unregulated entities, most of them keep changing their phone numbers and addresses ,they become dangerous liabilities.
We urge the government to create a database of all registered Real estate agents which could help regulate the profession and also help the home ministry to keep tab on realtors and help submission of date of rental deals to Foreigners/expats,etc in each area for purpose of national security.
The Finance ministry under the income tax act should allow expenses only to the amounts paid to RERA registerd brokers, as well as sharing of brokerages between RERA registered brokers only.
In the sale deeds as well as Rental agreements as well as documents for registration , names of the brokers involved as well his RERA registration number should be compulsorily mentioned as witness.
The RERA registered real estate agents should not be denied GST if applicable by the builders.
CREBAI urges the government to strictly ban use of built up and super built up areas by the builders, sellers in primary as well as secondary market and urges strict use of carpet /usable areas in presentation to the consumers for primary as well as secondary market throughout INDIA.
CREBAI urges the government to have a mechanism to correctly print the yearly circle rates in association with the local association under CREBAI so that the correct value could be reflected in the sale deed and that the circle rates should not be overvalued nor undervalued because of which the transaction fail to take off and conclude in which the real estate agent is a loser for his brokerage dues but the biggest loser is THE GOVERNMENT on stamp duty and registration amount receivables.