Designed for training for sports, it helps athletes RUN THE GAME 
by Suman Gupta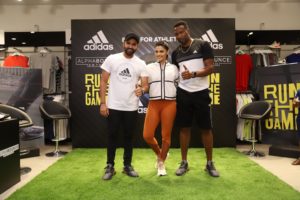 Mumbai, April, 2018 : adidas Cricket icons Rohit Sharma and Kieron Pollard along with adidas Running ambassador Saiyami Kher launched the AlphaBounce Beyond, the running footwear designed specifically for athletes needs, at the adidas sports performance store at High Street Phoenix in Mumbai today. Priced at Rs 9,999/- the footwear has been strategically designed for athletes who use running as a primary mode to dominate their game.
It's not the match-day shoes that the athletes use during their gym training and on-field conditioning drills. For this, they need a well-rounded footwear that is easy to run in, as running is the premise of most conditioning drills, provides stability for strength and balance sessions, a good grip for agility drills and just the right amount of cushioning to give the right comfort. Keeping the above needs in mind, adidas introduces the AlphaBounce Beyond, the pinnacle running shoe, with a strategically designed silhouette for athletes who use running as a primary mode to run the game. A widened profile, BOUNCE cushioning and an extended heel counter inspires athletes to keep ahead of the competition.
Speaking at the launch, Rohit Sharma, Cricketer and an adidas athlete, said, "Every athlete wants to push boundaries on the field of play. To enable myself to deliver on the Cricket field, I seek the best equipment and tools that can help me push my limits. Whether it is the cricket spike, or the football stud, or even the court shoes with gum soles, the right footwear to train for every game is extremely important! And the AlphaBounce Beyond is one such shoe for athletes who are looking at elevating their game."
Kieron Pollard further added, "Be it any sport, it is very important to wear the right gear for training.  This is the perfect shoe and has the right stability and grip; I'm really looking forward to train in them. Currently, I'm wearing the AlphaBounce Beyond and loving it."
Saiyami Kher, brand ambassador of adidas running added, "For me, it very important to wear the appropriate shoe when I'm training, be it cricket or running. I'm really excited to be a part of this launch with Rohit Sharma and Kieron Pollard."
The athletes challenging and competing with each other in different training activities at the adidas store marked the launch of AlphaBounce Beyond.
About AlphaBounce Beyond
The distinct design of the shoe is a result of innovation in style and technology:
Bounce Midsole – Provides energized comfort with every step
Forged Mesh – seamless stretchable mesh hugs your feet which provides optimum comfort and support for lateral and linear movements
Bounce cushion – Wider forefoot platform for better stability in lateral movements combined with elastic foam midsole that provides bouncy and comfortable ride
And to top it all, the shoe is available at a unique price of 9,999 INR/-.
The AlphaBounce Beyond is now available at shop.adidas.co.in and across all adidas sports performance retail stores.
Follow the conversation at @adidasrunnersin on Instagram and Facebook.