3,000 Indian companies operating at RAKEZ  
Strengthens India's ties with opening of new office at BKC Mumbai
by Suman Gupta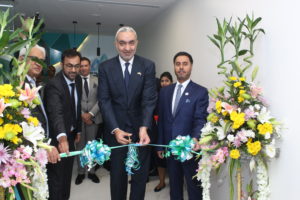 Mumbai – India, March 2018: In a bid to strengthen ties with overseas clients, Ras Al Khaimah Economic Zone (RAKEZ) has inaugurated its new office in India at the strategically important Bandra Kurla Complex in Mumbai. The opening of the office, which was witnessed by His Highness Sheikh Ahmed bin Saqr Al Qasimi, RAKEZ Chairman, VIP government representatives and senior industry leaders, reflects RAKEZ's extremely important and growing role as a leading investment destination for Indian companies. Nearly 3,000 Indian firms have already chosen RAKEZ because of its cost-effective environment, simplified processes, superior logistics and global connectivity.
This will provide a huge competitive edge they believe, to the Indian companies to compete with international markets as the cost of operations on set up as Ras Al Khaimah Economic would be reduced anywhere from 25 to 50 percent.
Ras Al Khaimah Economic Zone (RAKEZ) is fast emerging as the world's fastest growing free and non-free economic zones providing a metropolitan culture for living and working in addition to all the facilities required to set up the industry. They give clearances with all licenses and other documentation required within 24 hours.
Industries from India such as Pharmaceuticals, Chemicals, Manufacturing,  Auto, IT, Technology, Biotech, Financial Services etc. have shown keen interest to operate also from Ras Al Khaimah Economic Zone (RAKEZ) during an investment summit held here at a Press Conference here in  Mumbai.
 Speaking at the launch event in Mumbai, RAKEZ Chairman, said "For a long time, India has been an important market for us -20% of the companies at RAKEZ are from India. Standing here today, I can see how incredibly dynamic the Indian business community is, right here in the vibrant Bandra Kurla Complex. That's why we've chosen to open our new office here – because it brings us closer our clients and to the exciting diversity of businesses in this region, which I very much hope will soon join us and become part of the RAKEZ family."
RAKEZ is home to Indian companies from a wide range of industries, including manufacturing, trading and logistics, education, tourism, services and real estate. These include giants such as Ashok Leyland, GK Technologies and Mahindra who all enjoy premium services and cost-effective facilities. For thousands of Indian investors and firms looking for an easier and more cost-effective way to expand overseas, RAKEZ offers an easy way to get up and running, with fit-for-purpose infrastructure, reduced paperwork and proximity to neighbouring emirates and GCC countries