by Suman Gupta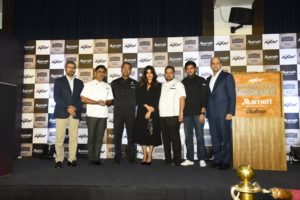 Mumbai, October 1, 2018: Marriott International Inc., the largest hospitality chain in the world, and AXN, the destination for best English entertainment shows, have joined hands for a one-of-its kind association. Together, they are curating a unique culinary show 'AXN Ultimate Cook-Off – The Marriott Challenge', which promises a thrilling, action packed and never-seen-before gastronomic experience for viewers. AXN will exclusively Premiere this cook-off on October 12th.
The show will be a nail-biting, high-stakes, head-to-head faceoff between four celebrated chefs from various brands within the Marriott portfolio. The contestants will display their skills through different culinary challenges and will be scored on their versatility, proficiency and creativity. The winning dish will make it to the menu of more than 100 Marriott International hotels across India.
Chef Toine Hoeksel, Senior Culinary Director, Asia Pacific, Marriott International Inc., who leads more than 30 brands under the Marriott family, visited India to judge the cook- off. Other judges included Chef Himanshu Taneja, Culinary Director, India, Marriott International and famed actor-cum-producer, Chitrangda Singh.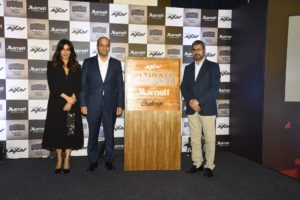 Marriott International Inc. and AXN's partnership will bring to life innovative content as well as memorable guest experiences. Viewers will also get to know 5 celebrated Marriott chefs through vignettes aired on AXN showcasing their expertise and passion for food. Additionally, Marriott International Inc. will be the presenting sponsor for the much-awaited Top Chef Season 14, scheduled to air this month on AXN – Mon-Fri, 9 pm.
 Passion, combined with a cooking competition, makes for great viewing, so tune in to watch the Drama of Food unfold only on AXN.
Neeraj Govil, Area Vice President, South Asia, Marriott International "At Marriott International Inc., we aspire to be leaders in every aspect. Culinary experiences always have and will continue to drive focus for us. This association gives us yet another platform to showcase our cooking styles, abilities and innovations in the F&B domain, while offering diverse, culinary experiences of the highest standards and celebrating the progressive culinary talent of our Chefs across Marriott."
Tushar Shah, Business Head, English Cluster, Sony Pictures Networks India said "Innovation and differentiation is at the core of everything we do. AXN's Ultimate Cook-Off – The Marriot Challenge is another such initiative, which is inspired by people's love for food. The common passion for food between Marriott International, AXN and Chitrangda Singh is what makes this association so special."
 Chitrangda Singh, Actor and Co-Judge said  "I am honoured to associate with Marriott International and AXN – two highly-respected names in the country, and world over. This association gives me a chance to truly explore my passion for food, as the chefs whip up their magic and produce sensorial delights. I also look forward to making my very first tie-up with AXN a memorable one."
About Marriott International:Marriott International, Inc. (NASDAQ: MAR) is based in Bethesda, Maryland, USA, and encompasses a portfolio of more than 6,700 properties in 30 leading hotel brands spanning 130 countries and territories. Marriott operates and franchises hotels and licenses vacation ownership resorts all around the world. The company also operates award-winning loyalty programs: Marriott Rewards®, which includes The Ritz-Carlton Rewards®, and Starwood Preferred Guest®. For more information, please visit our website at www.marriott.com, and for the latest company news, visit www.marriottnewscenter.com. In addition, connect with us on Facebook and @MarriottIntl on Twitter and Instagram.
About AXN: AXN is India's leading English General Entertainment Channel, backed by Sony Pictures Networks (SPN), offering Indian viewers edge-of-the-seat entertainment for the last 20 years.
In 2016, the brand repositioned itself with the tagline Live R.E.D., to showcase its vast content range and shift from generic action to more psychological action that evokes a feeling of mind rush. All elements of the channel's communication affirm AXN's brand commitment to LIVE R.E.D. The channel hosts Reality shows like The Voice, Top Gear, Top Chef, Fear Factor, Survivor, American Ninja Warrior; family Entertainment shows like Guinness Book of World Records, Breaking the Magician Code; and Drama shows like Sherlock, The Handmaid's Tale, Vikings, Breaking Bad, Hannibal, Ray Donovan, Elementary, Billions, Supernatural.