by Suman Gupta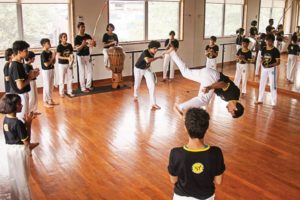 Mumbai, May, 2018: This Summer City, give your kids a chance to learn Brazilian martial arts from Reza Baba Massah, the founder of India's first capoeira group, Cordao De Ouro. Capoeira is a self-defense system that focuses on grappling and ground fighting, combines elements of dance, acrobatics and music.
Reza Baba started his quest to master capoeira in Israel under Mestre Cueca, 20 years ago and came back to India to start a group in 2005. His never-ending passion for Capoeira helped him to single handedly put capoeira on the maps of India. Professor Baba preaches that this is the only martial art in the world that gives you points for escaping, unlike other martial arts in the world which are drawn attacking; Capoeira was created to free mankind, to release them from slavery.
So, start your kids week with training of martial arts at Phoenix Marketcity, Mumbai (Kurla).

Event: Brazilian Martial Arts Workshop by Centre For Capoeira, India
Venue: Atrium 5, Phoenix Marketcity, Mumbai (Kurla)
Date: 28th May – 3rd June, 2018
Time: 10am – 1pm (2 batches available)
Fees: Rs.1000 for single class
Ages: 5-14yrs
Register here: +91-8652726738