by Suman Gupta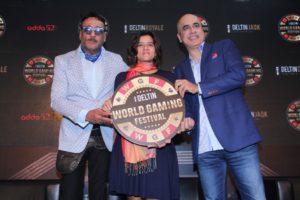 Gamers across the world will be descending on Goa to experience 'A Celebration of a Lifetime'
Opportunities for gamers to showcase their skills
Las Vegas style appeal, world class dazzling entertainment, international cuisine, amidst opulent luxury at iconic properties like Deltin Royale, Deltin JAQK Deltin Caravela and Deltin Denzong
The Deltin Daman to host a 3 day video gaming festival
India,October 2017: You think you have luck on your side, but do you really have the skill to win? Gamers across the world will be descending on Goa to experience 'A Celebration of a Lifetime' at The Deltin World Gaming Festival. Announcing the launch of the World Gaming Festival (WGF), Deltin Group – owned by Delta Corp Ltd – promises Las Vegas style appeal, opulent luxury, world class dazzling entertainment, international cuisine and those magical moments that gamers will be able to cherish forever. At a crowded media event, The Deltin Group also unveiled Cinestar Jackie Shroff as the Brand Ambassador for The Deltin World Gaming Festival 2017.
To be held from November 30 to December 4, 2017, the 5-day extravaganza will see  6 international and local popular games, namely,  Poker, Rummy, Roulette, Baccarat, Indian Flush and Andar Bahar. It should be noted that The Deltin Group pioneered the concept of 'The World Gaming Festival' in India way back in 2011 and since then the Deltin Group has been working relentlessly in adding infrastructure, gaming capacity and value adds in the field of entertainment, luxury, cuisine and overall properties.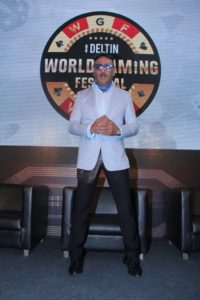 Globally, gaming festivals are seen as intersection of games, entertainment, food and culture and The Deltin WGF is all set to take it to the next level. The host venues speak for themselves – Deltin Royale, Deltin JAQK and Deltin Caravela – All three anchored in Goa's serene river, are the finest and award winning properties in India. Deltin Royale is 40,000 sq.ft five level luxury gaming with 850 gaming positions, Deltin JAQK with over 350 gaming positions, and Deltin Caravela which is touted as India's very 1st Casino & Flotel has 80 gaming positions. Besides, there are multi cuisine restaurants, Aqua Bar, Spa, and The Grand Exclusive Whisky Lounge.
In addition, The Deltin WGF will take on another Avatar at The Deltin Daman. This will be a video gaming festival and will take place from December 15 to December 17, 2017. It is being conducted keeping in mind the growing popularity of e-sports as a segment within the gaming industry. The Deltin World Gaming Festival at Daman will comprise of games such as FIFA 18, Tekken 7, Counter Strike and DOTA 2. The video gaming leg of the Deltin WGF will include Controller Gaming Experience Zone, Motion Gaming Experience Zone, Virtual Reality Experience Zone, Simulation Gaming Experience Zone and Fun with Friends Zone. The Deltin Group will redo the Daman property to incorporate large format screens on which these games will be played and also 'Live Stream' the tournament matches.
At all the locations, there will be a vast array of entertainment options for the guests to choose from. One can experience any genre of music, international artists, entertainment acts and live dance performances to keep the audience entertained.
Speaking on the occasion, Mr. Anil Malani, President, Delta Corp Ltd, said: "It gives me immense pleasure to launch The Deltin World gaming festival. Our endeavor always has been to bring in international level entertainment and gaming for the connoisseurs in India and for gamers across the world. In the last decade, we have witnessed the rise of gaming in India and gamers from all walks of life have embraced it. In fact our online platform adda52 is India's largest online poker website with over 10 lakh registered users. Starting today we are launching a 360 degrees marketing campaign to spread the word on The Deltin World Gaming Festival"
Commenting on his Brand Ambassadorship, Cinestar Jackie Shroff stated "I have always believed in living my life to the fullest, and thus I readily agreed to be the brand ambassador of a concept which lets people experiences a different world where they leave all their worries aside and enjoy the extravagance at The Deltin World Gaming Festival. It is a once in a lifetime opportunity for everyone and I don't think anyone can afford to miss it. I can definitely say that the environment during this event will be at its best and the enthusiasm would be at its peak."
Come enjoy the extravagance at the Deltin World Gaming Festival in Goa, Sikkim and Daman and conclude 2017 with a blast