by Suman Gupta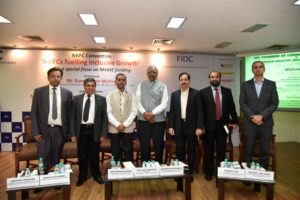 13TH June, Mumbai : In his keynote address, at the NBFC convention on Fueling Inclusive Growth, organized by IMC Chamber of Commerce and FIDC, Mr Ram Mohan Mishra, Additional Secretary & Development Commissioner, Ministry of MSME, Govt of India, said that NBFCs should offer customized services to the unbanked and non-inclusive customers. He said for such services goodwill of the customers should be criteria for lending. He suggested that Chambers of Commerce, like IMC, could consider offer credit rating services to the MSMEs and could be a recommending agency to the banks for the loan requirements of customers.
Earlier welcoming the dignitaries, Dr Lalit Kanodia, President, IMC Chamber of Commerce, said that these were the exciting times for NBFCs, which holds a great importance for the nation. He opined that the sector was "coming of age" with the introduction of new products and focus on digitization for enlarging financial inclusion for meeting the funding requirements considering the current state of NPAs in the banking sector. He complimented the government for easing many regulatory frameworks for the benefit of the sector.
The conference was addressed by Mr Ramesh Iyer, who opined that the new wave for NBFcs could now be termed as New bench Mark for Credit and would design products for lending to deeper pockets.  He said success of NBFCs is based on the degree of understanding the pain point of the customers in offering solutions. The Chairman FIDC, Mr Raman Agrawal, complimented the government for bringing about encouraging changes in the regulations and introducing technology related initiatives for the sector. He suggested that the government could introduce level playing field for the various categories of NBFCs as well.
The CGM RBI spoke about the various pro NBFC regulatory issues that have been instrduced by RBI. Among others, was the setting up of an Ombudsmen scheme for the deposit focused NBFCs. He added that RBI is working on a Fit and Proper criteria for the Directors of the NBFCs for improving the governance standards of the industry.
A knowledge paper on the role of NBFC in fueling MSME lending was also released by PwC on the occasion .The day long seminar saw a number of panel discussions being deliberated upon by industry experts.
About IMC : Set up in 1907, Indian Merchants' Chamber is an apex Chamber of trade, commerce & industry with headquarters in Mumbai. It has about 2700 direct members, comprising a cross section of the business community, including public and private limited companies and over 225 trade and industry associations through which the Chamber reaches out to over 2,50,000 business establishments in the country. IMC is the first Chamber in India to get ISO 9002-2000 certification which has since been upgraded to ISO 9001: 2008. IMC is the only business Chamber in India with which the Father of the Nation, Mahatma Gandhi, was associated as an Honorary Member.