Centaur Pharmaceuticals & Kibow Biotech, USA, announce a strategic alliance to market Renadyl in India for Chronic Kidney Disease
Prevalence of Chronic Kidney Disease in India is 17.2% and rising
Dialysis is a painful and expensive process with scarcely available resources
This novel, US-patented, and clinically-tested product helps maintain healthy kidney functions
by Suman Gupta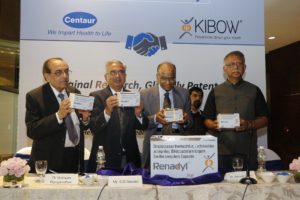 Mumbai, 06 March, 2018: Centaur Pharmaceuticals and Kibow Biotech USA announced a strategic long-term alliance to market Renadyl in India. Centaur will initially import and market the product in India, and will eventually manufacture and market with technical inputs from Kibow Biotech. In an opening address Mr Gregory Taevs thanked Centaur and Kibow for inviting him to the occasion & wished the strategic alliance a grand success.
Commenting on this strategic alliance, Dr Natrajan Ranganathan, Ph.D. (Bio-organic Chemistry), inventor of the globally patented product, and the Founder and Managing Director of Kibow Biotech, said, "As my roots are from India, I am extremely happy that my company Kibow Biotech has collaborated with Centaur Pharmaceuticals. Now we can together offer the benefits of my 20 years of research to millions of Indian patients suffering from Chronic Kidney Disease (CKD) and make their lives better. Kibow also has an interesting research pipeline which we hope to bring to India for the benefit of Indian patients."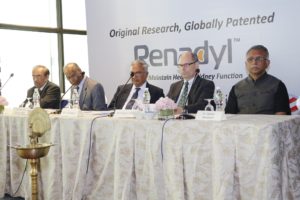 Speaking on this occasion, Mr. S. D. Sawant, Chairman and MD of Centaur Pharmaceuticals, said, "Kibow has a strong research infrastructure and expertise in modulating gut microbiome. Through this alliance, Centaur will leverage Kibow's research expertise and its own strong manufacturing and marketing skills to offer hope in the form of Renadyl to patients in India suffering from CKD. We are happy to announce this alliance in the backdrop of World Kidney Day and World Women's Day coming up on 8th March, A globally patented product, Renadyl, is an effective kidney health therapy, targeted towards CKD patients, particularly those in Stage III/ IV (pre-dialysis). Renadyl is clinically proven to reduce nitrogenous waste and delay the need for dialysis. Renadyl also provides improved quality of life for Stage V patients on dialysis.
About CKD in India: CKD is rapidly assuming epidemic proportions globally, as well as in India, due to increasing incidences of diabetes and hypertension. Prevalence of CKD in adult patients in India is 17.2%1. More than 1,00,000 new patients enter dialysis every year in India. However, because of scarce resources only 10% of this population is on dialysis7-9. There is now hope for CKD patients in India in the form of Renadyl.  The market for CKD therapy in India is more than Rs. 1000 cr.
About Centaur Pharmaceuticals: Centaur Pharmaceuticals was founded in 1978 and today is one of the Top 50 pharmaceutical companies in India. It ranks amongst India's few, fully integrated pharmaceutical firms with proficiencies across API, R&D, CRAM, Clinical Research and formulations, and exports to 96 countries. Centaur has four manufacturing facilities, two of which are USFDA approved. Centaur markets Sinarest, India's No.1 anti cold brand since 1996. Centaur has won the AWACS- Brand of the Year Award for Sinarest consecutively for the last four years.
About Kibow Biotech USA: Kibow Biotech is a biotechnology company founded in 1997, involved in cutting edge research of  modulating the gut microbiome through innovative research products. Kibow has invented a globally patented product 'Renadyl' for promoting kidney health. Other innovative products of Kibow include Azodyl, Kibow Flora and Kibow Fortis.