by Suman Gupta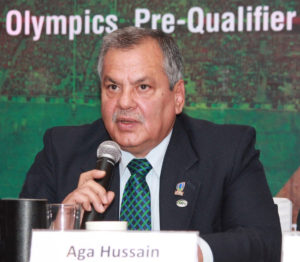 Mumbai, November 2017: Aga Hussain, of the Indian Rugby Football Union (IRFU) aka Rugby India, has been elected the President of Asia Rugby at the AGM of Asia Rugby in Hong Kong on Sunday, November 19, 2017. With this landmark development, he becomes the first Indian ever to be elected President of Asia Rugby.
Hussain has over four decades of involvement with Rugby, including five years as member of the Asia Rugby EXCO and two years it's Vice President. He has served as the Representative of Rugby India on the Asia Rugby Council since 2000.
Speaking on the occasion  Hussain said, "I am honored to have been elected as Asia Rugby President and I wish to thank the Asia Rugby Council Members for the trust and confidence they have shown in me. I remain committed to raising the awareness & profile of the game in Asia and to ensure Asia Rugby becomes the best governed Regional Association of Word Rugby"
Hussain is a founding member of Indian Rugby Football Union (Rugby India) and played competitive Rugby for 26 years at Club, National and International Level. He was the captain of the Indian Rugby team and led the country in its very first International Rugby tournament held in Singapore in 1998. He has worked tirelessly to popularize and develop the sport of Rugby in India and a game that was enjoyed only in a few metros until recently is being actively played across 24 States in India in all age – grade categories for both girls & boys and senior men & women.
Asia Rugby (Asian Rugby Football Union) is the governing body of Rugby in Asia under the authority of World Rugby (Previously known as an International Rugby Board – IRB). Founded in 1968 by eight charter nations, Asia Rugby today has 31 registered member Unions across Asia, stretching from Jordan in the West to Guam in the East and from Mongolia in the North to Indonesia in the South.