A one-of-its-kind premium yoga studio for women
Crafting a journey from a woman into a DIVA
by Suman Gupta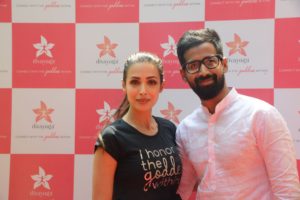 Mumbai: October, 12th 2018:  Malaika Arora, a versatile artist, a fitness enthusiast and a well-known business personality, takes her passion for fitness a step further and announces the launch of one-of-its-kind, premium yoga studio – DIVA YOGA, for women only, in association with Zorba Yoga. On October 12, 2018, at Mumbai – Bandra West.  Diva Yoga aims to touch upon the aspirational aspect of yoga, by helping them discover their inner power and grace and support them discover the diva within.
Speaking, on the occasion, Ms. Malaika Arora – Co-Founder -Diva Yoga, says "We believe that there is a Diva within all of us but s ometimes, it's a little challenging to find her. We aim to do just that at Diva Yoga through our unique 12 Steps program crafted by experts in the field, that will help her grow and transform into the beautiful goddess that she is".
Talking about the launch, Mr. Sarvesh Shashi – Co-Founder Diva Yoga & Founder Zorba, says" Our aim is to build a community of women – strong, independent, healthy and happy, through yoga and series of events that focus on mental, physical, spiritual and social well-being. Because strong women build each other and strong women through the ages have built society.  Women are beautiful. Strong women are Divas!".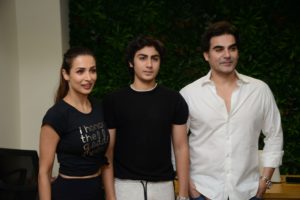 With a team of experts on board, Diva Yoga's objective is to touch-base every important facet of a woman's life and help her in the journey of discovering her true inner self, power and grace. Apart from the regular yoga, the studio offers a holistic well – being program focusing on Awareness, Mindfulness and Healing.  The subtle and zen like interiors of the studio create just the right ambience – the highlight being "The Sacred Space" – a transformational haven with subtle affirmations to lift you up – BELIEVE- ASPIRE – GLOW – TRANSCEND – DISCOVER.  The studio will cater to all women who aspire and wish to break through the conventional mode of well-being and discover themselves through uniquely designed programs at Diva Yoga.The first Diva Yoga studio was open to welcome its members on 12 October 2018 on Hill road, Bandra West in Mumbai. In the course of the next 12 months, Diva Yoga plans to open 11 new studio across Mumbai.
About Diva Yoga:Diva Yoga is an experiential yoga studio, exclusively for women. The Diva Yoga studio through its program aims to bring out the invincible Diva that resides within every woman who walks into the studio. It is a transformational experience that encourages the Divas to embrace happiness and peace through a healthy physique, strong mind and energetic soul. Diva Yoga is a never-experienced-before format of Yoga where the entire experience of undergoing a transformation is designed rather than delivering it through a usual Yoga routine.  The program is based around 12 Steps that ensure a holistic transformation of the body, mind and soul.
About Zorba Yoga: Zorba is India's Happiest Chain of Yoga studios, with a presence across 80+ centres in 40 cities.  Zorba thrives on the principle of using yoga, mindfulness and beyond as the tool with which to empower people to lead happier and healthier lives.  With 25 interesting forms of yoga such as Aerial Yoga, Hot Yoga, Wall Yoga, Aqua Yoga, Chair Yoga to name a few. 'Connecting seven billion breaths through Yoga' is Zorba's ultimate goal.