by Suman Gupta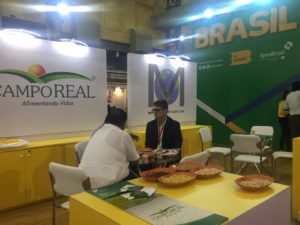 The Brazilian companies that integrate the Brazil Trade Mission to India 2018 are expected to reach approximatetly USD 80 million in business during the mission and over the 12 months following the initiative. Nine of the 20 companies are bean producers. The Mission is organized by the Brazilian Trade and Investment Promotion Agency (Apex-Brasil) in partnership with the Brazilian Ministry of Foreign Affairs.
In 2017 Brazil was the third biggest seller of beans to India with 6% of the market share, after Myanmar (60%) and China (10%).In 2013 Brazil was responsible for only 1,1% of beans sales to India. Last year India imported USD 553,8 million in beans.From that amount USD34 million were from Brazil. According to the Brazilian Bean Institute (Ibrafe) the goal is to double Brazilian exports within the next three years. For this to happen, the industry has the support of Apex-Brasil, as well as the Brazilian Ministry of Agriculture, Livestock and Food Supply (MAPA).  
The Brazil Trade Mission to India 2018 has focused on agribusiness and food and beverage sectors. The companies participated in the Annapoorna World of Food India Fair 2018 that took place in Mumbai and had previous business rounds with Indian buyers selected by the Agency in New Delhi, from September 23rd to 29th.  
"It is very important to strengthen the trade between the two countries. The current trade flow does not reflect the size and economic diversity of both countries. We see India as a good and important market for Brazilian products and we believe we can be competitive and bring a quality offer of goods", says Igor Celeste, Market Intelligence coordinator of Apex-Brasil.  
"We have several actions towards the Indian market and Brazilian companies are getting more interested each year", completes Igor. Last year nine Brazilian companies took part on the Mission. This year 20 companies are in India. For 2019 the Brazil Trade Mission to India is already confirmed. Apex-Brasil plans to bring to India 25 companies.