by Suman Gupta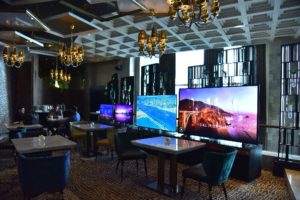 Vu has come up with a product Vu 100 that will forever change what people expect from home entertainment. And has chosen to launch it not at IFA Berlin or CES Las Vegas, but right here in India.The Vu 100 is the most spectacular television you can buy today. Its 100 inches panel is the size of 224 iphones! But it's not all about size. Vu's superior panel technology gives you 2.5 billion colours with depth and sharpness, 2000 watt sound that will both stun you with its power and ensure you hear every voice with clarity. And all of this comes packed in a stylish full metal designer exterior that would look at home in the world's top art galleries.
Popular television brand VU has just launched a new 100-inch TV in India. The smart TV model known as VU 100 supports 4K Ultra HD resolution with HDR for a premium viewing experience. The company claims that this is the world's first 100-inch 4k LED TV. The mammoth A+ grade IPS panel claims to reproduce 2.5 billion colours. It is backed by 2000 watts of sound, though the company hasn't specified the RMS numbers for sound output.
The TV comes equipped with 2.5GB RAM along with 16GB internal storage. It runs on official Android Oreo OS, again a first – according to VU. It is powered by a quad-core CPU along with a GPU capable of crunching 3D games. The company hasn't specified the make or model of the chipset used. The VU 100 responds to voice commands through the bundled remote control and can also communicate with other smart devices in the house. The VU 100 also supports two way Bluetooth connectivity to connect wirelessly with most Bluetooth enabled devices.
No one will dispute that we, here in India, love our movies.  In fact, we are the biggest consumers of films and serials in the world. And now, providers like Amazon and Netflix have given us access to top quality entertainment to rival anything produced by mainstream Hollywood or Bollywood. So it's only fitting that we be able to enjoy this high calibre content on high calibre screens. These streaming services are not available at your local cinema, but with new Vu 100 television with 4K HDR, With the Vu 100 they get all this, not only for the television, but for all their devices and gadgets, from mobiles and laptops to even lighting and air conditioning, and all of it can be controlled with voice command! No more searching under the cushions for the remote or having to key in commands letter by letter.
The Vu 100 doesn't just integrate the household devices, it has a similar effect on people. Watching the Vu 100 is an event in itself, the life of any party, bringing together family and friends to watch the IPL, for example, or to dance the night away without the need to hire a DJ. Celebrate New Year, Diwali, birthdays or just the release of Bollwood's latest blockbuster. And because of its elegant, minimalist design, you can put the Vu in your hall, or dining room, even out on the terrace for a night of cinema under the stars.
Quality always comes at a price, and at around 20 lakhs per TV, the Vu 100 delivers the biggest bang for your buck!. There are those who demand the best and are willing and able to pay for it. Currently there are thousands of cars being bought for 20 lakh, and homes for more than 20 crores. The market is there for discerning consumers looking for the best for their homes, not to mention hotels, clubs, airport  lounges and offices.
Since inception Vu has been known for customer-centric innovation of 4K, QLED and Official Android. Which has led to the unwavering loyalty of our customers – high net worth individuals and young professionals – to who we owe our best. In August we sold our millionth television, making us the largest 4K television brand in India, ahead of Sony. We have grown from a 95 crore company 3 years back, to a 750 crore company last year and will be at a revenue of Rs. 1,200 crore this year. With the largest and most innovative range of tvs, Vu is the future of the television industry, in India, and globally.