by Suman Gupta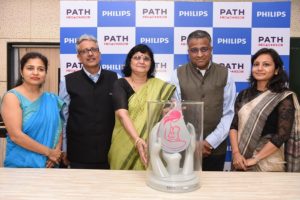 MUMBAI: – Philips India, a leading health technology company, today showcased an upgraded Comprehensive Lactation Management Centre (CLMC) at Lokmanya Tilak Municipal General Hospital, Mumbai, which was setup in 1989 and was the first human milk bank of Asia.
Philips India is supporting the setup and upgradation of 5 CLMCs across India to help reduce neonatal mortality and morbidity, through uptake of breast feeding in the country. PATH, a global organization that works to accelerate maternal and newborn health is providing technical support to implement this endeavour. These centres are being set up in line with the Government of India's national Lactation Management Centre guidelines. CLMCs promote and support breastfeeding, encourage kangaroo mother care  and provide access to safe  donor human milk for those babies who cannot breastfeed. CLMCs also support mothers in lactating and expressing milk for their own babies who are in neonatal intensive care units and cannot breastfeed.
For India to reduce under-five mortality, ensuring scale up of early and exclusive breastfeeding would play a key role. India also has a large share of vulnerable babies many of who do not have access to mother's own milk. This lack of access to breast milk leaves infants more vulnerable especially those born preterm, low birth weight to disease or poor health. CLMCs help bridge this gap by ensuring access to human milk for these babies. Evidence shows that a non-breastfed child's risk of death is six times that of a breastfed child born in resource-limited settings, according to a Lancet breastfeeding series report.
Commenting on the partnership, ADA Ratnam, President- Personal Health, Philips India, said, "The support for setting up of these centres highlights Philips' commitment towards strengthening the breastfeeding ecosystem in India by supporting PATH through our CSR initiative to strengthen systems for setting up CLMCs at different health facilities in the country. With more access to improved breastfeeding support and  safe and high-quality donor milk, more babies in India can have a chance at growing up to be healthy adults"
Explaining the innovation Neeraj Jain, Country Director PATH India Country Program, said, "As part of PATH's Mother Baby Friendly Initiative, we will be supporting Comprehensive Lactation Management Centres across India in promoting and supporting good breastfeeding practices leading to elimination of feeding of formula and cow milk to babies. CLMCs will also collect, pasteurize, test, and store safe, donated milk from lactating mothers and provide it to infants in need, ensuring that even if babies cannot breastfeed, they still receive human milk as soon as possible.."
On the side lines of the launch, Pooja Baid, Business Head – Health & Wellness and Coffee said, "Breastfeeding practices in India have improved in the past few years but the importance of breast milk is still relatively poor among new mothers in India. Philips plays an important role in aiding mothers to breastfeed their children so that they can get a good start to lead healthy lives."
About Royal Philips : Royal Philips (NYSE: PHG, AEX: PHIA) is a leading health technology company focused on improving people's health and enabling better outcomes across the health continuum from healthy living and prevention, to diagnosis, treatment and home care. Philips leverages advanced technology and deep clinical and consumer insights to deliver integrated solutions. Headquartered in the Netherlands, the company is a leader in diagnostic imaging, image-guided therapy, patient monitoring and health informatics, as well as in consumer health and home care. Philips' health technology portfolio generated 2016 sales of EUR 17.4 billion and employs approximately 71,000 employees with sales and services in more than 100 countries. News about Philips can be found at www.philips.com/newscenter