by Suman Gupta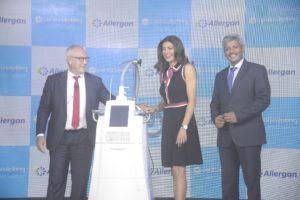 A clinically proven technology that freezes away fat cells to reshape the body
Sushmita Sen, Dabboo Ratnani and Prashant Sawant engage in a panel discussion themed around "Fear No Mirror" and talk about CoolSculpting®, the world's only leading FDA approved fat freezing technology
Mumbai, August 16th, 2018: Allergan Healthcare India Pvt. Ltd, leaders in facial aesthetics and neurosciences, is making waves in the Indian market with the unveiling of CoolSculpting®, its latest technology in body contouring, in India.
Living by its philosophy of "Be Bold", Allergan India unveiled "CoolSculpting® " through a path-breaking innovative panel discussion comprising of real people with real stories, from renowned fields such as Sushmita Sen – Bollywood Actress and Former Miss Universe; Dabboo Ratnani- Celebrity Photographer; Prashant Sawant – Celebrity Body Sculptor; Dr. Jaishree Sharad – Director, Skinfiniti Aesthetic Skin and Laser Clinic; Dr. Jamuna Pai – Celebrity Cosmetic Physician, Chairman & Founder, SkinLab Clinic; Marc Princen, Executive Vice-President and President of Allergan International Business and Sridhar Ranganathan  – Managing Director, Allergan India and South Asia.  The event was moderated by Monica Bahl – Sr. Vice- President, VLCC on 16th August at Taj Lands End in Mumbai.
Themed around "Fear No Mirror", the event iterated that it is possible for people to admire themselves in a mirror, rather than fearing those extra bulges. In a world where we aspire to be our best selves, our appearance plays an essential part in complementing our personality and talents. When it comes to aesthetics, research shows that we are more concerned about excess body fat than we are about the wrinkles on our forehead.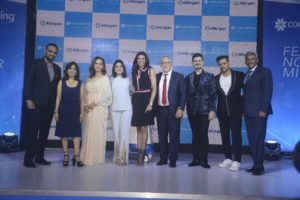 During the discussion, Sushmita Sen highlighted the need for a well-sculpted body to look and feel confident, drawing from her personal experiences as a model and actor. Dabboo Ratnani having had the experience of working with different body types in his career, spoke about the various photography angles and the confidence one radiates with a well-sculpted body, in front of the camera. Similarly, Prashant Sawant believes that there is no shortcut to a well-sculpted body and CoolSculpting® is the only FDA approved treatment to get rid of that stubborn fat that does not go away, despite a regular diet and exercise.
On the unveiling of CoolSculpting®, Marc Princen, Executive Vice-President and President of Allergan International Business said, "As market leaders in medical aesthetics, we are very excited to unveil CoolSculpting® in India. Globally, we are trend setters in non-invasive body contouring. Historically, body contouring treatments involved surgery e.g. liposuction. Today, non-surgical fat-reduction treatments are in the top 10 list of most popular nonsurgical procedures. We are confident that this FDA approved technology will revolutionize the body contouring segment in India."
On being a part of the event, Sushmita Sen said, "I have always believed in leading a healthy and fit lifestyle as it is important not just to look good but to feel confident as well from within. As we age our bodies change too and it's amazing. Sometimes no matter how hard we try, how much you stick to a healthy lifestyle, some stubborn fat always remains. In such cases, there is CoolSculpting® that may help people go that extra mile to look and feel more confident as it eliminates stubborn fat."
"By adding the best in class body contouring CoolSculpting® to our kitty of products, we are creating an exclusive and holistic aesthetics business in India," said Sridhar Ranganathan, Managing Director, India and South Asia, Allergan India. "CoolSculpting® has been a popular option for both men and women with over five million treatment cycles performed to date in 74 countries. Given the Indian genotype and typical lifestyles that we lead, body contouring is set to grow by leaps and bounds in India. CoolSculpting® is best suited for people with BMI's between 20 – 30 and age groups of 18yrs onwards." He added
Dr. Jaishree Sharad, Director Skinfiniti Aesthetic Skin and Laser Clinic said, "CoolSculpting® really moves the bar in the way you feel about yourself. Being the only FDA approved body contouring technology available in India, this procedure is safe and effective. The best results are seen in 12 weeks of treatment. I am happy to offer a procedure to my clientele who don't need any direct supervision post treatment and can resume a daily routine immediately"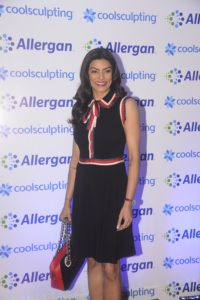 "Allergan is a company which continues to surprise me with their new and novel products. The beauty industry has evolved to become more technology dependent with cutting-edge devices now becoming the mainstay of the business. CoolSculpting is one such technology." Said Dr. Jamuna Pai, Celebrity Cosmetic Physician, Chairman & Founder, SkinLab Clinic. "More than any other procedure, CoolSculpting® brings new patients to our clinics every day. This exponential growth in demand from my customers coupled with growing awareness and increasing disposable income, assures me that CoolSculpting® is already the next big trend in body contouring, in India" she added
Monica Bahl, SVP, Operations, VLCC said, "Customers walk into VLCC demanding for CoolSculpting® by name. In fact, we have included more machines in our centres to meet this growing demand. CoolSculpting® is truly one of the most prominent procedures in our centres"
About CoolSculpting®
CoolSculpting® is one of the most performed body sculpting treatments.
CoolSculpting® is a non-surgical, clinically proven treatment option that freezes away unwanted fat cells with minimal expected downtime. Using a cooling technology called Cryolipolysis, CoolSculpting® targets and cools fat cells to temperatures that trigger fat cell death without affecting surrounding tissue. Once the cells die, they are then naturally removed by the body.
A procedure that eliminates fat cells.
There are a fixed number of fat cells in our bodies. When we gain extreme weight, we do not gain additional cells; the existing cells simply get larger. Similarly, these cells shrink when we lose weight. Body contouring treatments such as CoolSculpting® offer patients the option to optimise the definition, smoothness and shape of their bodies.
CoolSculpting® is exclusively available with leading cosmetologists in India and is the only fat-freezing procedure that is FDA-cleared.