by Suman Gupta
Celebrate the 72 glorious years of Independence with patriotic fervor at Grand Mercure Bangalore nestled in the heart of Bengaluru's plush Koramangala district. Guests can indulge in an array of tricolor-themed treats at 12th Main, the outdoor alfresco outlet of the vibrant property.  
Use this holiday as an excuse to tantalize your taste buds with a patriotic spin on scrumptious food. Gorge on the variety of tricolor-themed treats with quintessential traditional food from different regions of India at the luxury property.
Invoke your patriotic spirit while you sway with the songs of freedom and indulge in the traditional dishes from the varied States of this rich Nation. So this Independence Day, head to Grand Mercure Bangalore to enjoy the most delicious gourmet cuisine.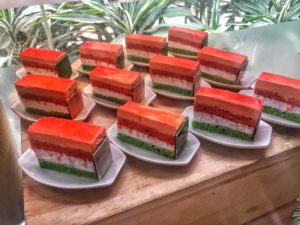 Time: 12:00 PM to 3:00 PM
Venue: 12th Main Restaurant, Grand Mercure Bangalore
Price: INR 1199++
Reservations: +91 9008302784