by Suman Gupta
Aims doubling profits over 5 to 7 years by growing to Top 2 position globally in major verticals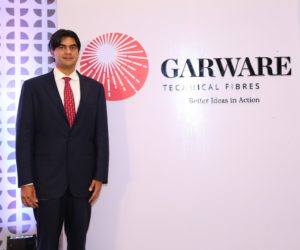 Mumbai, 8th August, 2018: India's leading technical textiles company Garware-Wall Ropes Ltd. (GWRL) announced change in corporate brand name and identity to Garware Technical Fibres Ltd. (GTFL). The rebranding is a part of a focused vision to double its profit over the next five to seven years and be amongst the Top 2 players globally in each of its major operating verticals.
"Over the past four decades, we've built a strong reputation for quality, value addition, application focused   innovation and we wanted this to reflect in our name and brand," said Mr. Vayu Garware, Chairman & Managing Director, Garware Technical Fibres Ltd, "Our solution segments are niche and all these segments impact the larger economy. For example, among others, our solutions are focused on progress and productivity for agriculture and fisheries, which typically constitutes almost 14 to 15% of India's GDP. The next five to seven years will be very important for us as we look forward to double our profits and this we will achieve by being among the top two in each of our major verticals."
"The new identity and name is a reflection of our commitment for creating value. With over 2o patents to our name, we are an idea-driven company which achieves differentiated valued added solutions that impact  businesses significantly and adds unmatched value to customers.", he added.
"This is an exciting transformation for us and marks a strategic pivot in our future path in Technical Textiles business," said Mr. Shujaul Rehman, Chief Executive Officer, Garware Technical Fibres Ltd. "Our presence significantly impacts the sustainability of food production with a positive impact on the environment. We will continue to grow our value added offering in more than 75 countries and are committed to growing both India and global business to serve our stakeholders". After the change in identity and name the organization will now be known as 'Garware Technical Fibres Ltd.'
About Garware Technical Fibres Ltd (formerly Garware Wall Ropes Ltd): (BSE: 509557 / NSE: GARWALLROP): Garware Technical Fibres Ltd. (formerly Garware-Wall Ropes Ltd.), an ISO 14001:2015 and ISO 9001:2015 certified company is a leading player in Technical Textiles specializing in providing customized solutions to its customers worldwide. Globally, the company is known for its applied innovation in the field of sports, fisheries, aquaculture, shipping, agriculture, coated fabrics and geosynthetics. Garware Technical Fibres Ltd products are manufactured in state-of-art facilities at Wai and Pune and marketed in more than 75 countries. For more information, please visit http://www.garwarefibres.com