by Suman Gupta/MNE
The collaboration aims at combining synergies to enhance the reach of health-based protection solutions to the varied customer segments of Karur Vysya Bank
Through unique offerings, ABHICL shall be able to cover wide range of customers base at Karur Vysya Bank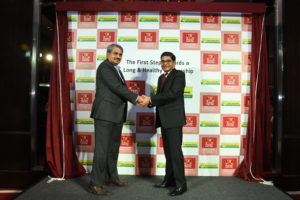 Aditya Birla Health Insurance Co. Limited. (ABHICL), the Health Insurance arm of Aditya Birla Capital Limited today announced a corporate-agency partnership with India's leading private sector Bank – Karur Vysya Bank (KVB). Aditya Birla Health Insurance will market its retail and group products with world-class features to suit the needs of Karur Vysya Bank customers from all socio-economic segments across all its business channels. Commenting on the development, P R Seshadri, MD & CEO, Karur Vysya Bank said " As we live longer, happier and more purposeful lives, we must ensure that we have access to the miracles of modern medicine. As medicine becomes more competent in treating ailments, it becomes more expensive. We are pleased to have tied up with Aditya Birla Health Insurance – a leading health insurer and a trusted Indian name – to offer world class health insurance to our customers – individuals, small businesses and corporates – to help ensure long and fulfilling lives for all our customers."
KVB has, after assessing various options, decided to go with Aditya Birla Health Insurance as one such partner.  They offer a combo of compelling product proposition and strong market reputation, which we are certain would appeal to our customers.  We are sure that this arrangement will be mutually beneficial to both our companies as KVB will be able to add one more service to its bouquet, while ABHICL will be able to access millions of our customers, especially in the Tier I, II & III centres, where KVB has significant presence."
Mayank Bathwal, CEO, Aditya Birla Health Insurance Company Limited said "We are delighted to have Karur Vysya Bank, one of the most trusted brands in the banking sector as our bancassurance partners. Owing to the huge opportunity and low penetration in the health insurance segment, we believe through this strategic tie-up and our robust product offering we shall be able to cover wide range of the customers at Karur Vysya Bank.
He further added, "A ubiquitous awareness, product innovation, customer engagement, and technology prowess are the hallmarks of brand ABHICL, and our focus is to provide need-based health insurance solutions and sustain the trust of customers' of the bank."
ABHICL has been strengthening its distribution reach and is adopting and maintaining a wide range of innovations to cater both in urban and rural areas in the country. ABHICL are catering a diverse segment of customers from those suffering from critical illness or health anxious people worried about deteriorating health to customers who are completely fit and healthy, by offering tailor-made solutions for individuals in the particular segment.
ABHICL would also be leveraging KVB's physical and digital assets to create deeper penetration. This collaboration is a step towards further strengthening its distribution reach to cater relevant health protection solutions to the individuals in the country.
KVB is committed to giving the best services to its customers, and when an area as significant as health insurance is concerned, the bank would like its partner to take good care of customers' needs and respond positively to their grievances.  KVB plans to offer health insurance to its customers across all its 790 branches.  Leveraging its presence in semi-urban and rural areas, KVB is confident that ABHICL will be able to provide affordable insurance products, customized to the requirements of its clientele even in small centres.  Technology will play a vital role in ensuring that the products reach KVB's customers seamlessly and both the companies are geared up on this front.
 About Karur Vysya Bank: The Karur Vysya Bank Limited, popularly known as KVB, was set up in 1916 by two great visionaries and illustrious sons of Karur, the Late Shri M A Venkatarama Chettiar and the Late Shri Athi Krishna Chettiar to provide financial assistance to traders and small agriculturists in and around Karur, a textile town in Tamil Nadu. The bank is professionally managed and guided by the Board of Directors drawn from different fields with vision, experience, knowledge and business acumen.  The bank presently has a pan India branch network of 790 with as many as 1800 ATMs and 530 cash deposit machines.  The bank has leveraged technology to deliver value based services to the clients and consistent updation of the tech process is the key to the bank's success.  The bank is currently working on providing a digital solution that will  provide sanctions for it retail and commercial loans in less than half an hour.
 About Aditya Birla Health Insurance Limited, an Aditya Birla Capital Company: Aditya Birla Health Insurance Co. Limited ("ABHICL") was incorporated in 2015 as a 51:49 joint venture between MMI Strategic Investments (Pty) Ltd, MMI Holdings Limited, Aditya Birla Nuvo Limited and Aditya Birla Capital Limited (ABCL – Formerly known as Aditya Birla Financial Services Limited). ABHICL commenced its operations in October 2016 and is engaged in the business of health insurance. ABHICL's current product portfolio includes unique offerings including chronic care and incentivized wellness. As on FY17-18 end, ABHICL recorded a gross premium income of Rs. 2,431 Mn and have covered more than 1 Mn lives. ABHICL has a nation-wide distribution presence across 36 cities, 5 bancassurance partners, over 15,684 direct selling agents and 1390 employees.
Aditya Birla Capital Limited (ABCL) is the holding company of all the financial services businesses of the Aditya Birla Group. With a strong presence across the life insurance, asset management, private equity, corporate lending, structured finance, project finance, general insurance broking, wealth management, equity, currency and commodity broking, online personal finance management, housing finance, pension fund management and health insurance business, ABCL is committed to serving the end-to-end financial services needs of its retail and corporate customers under a unified brand — Aditya Birla Capital. Anchored by more than 14,500 employees, ABCL has a nationwide reach through over 1,500 points of presence and more than 150,000 agent's / channel partners. Aditya Birla Capital manages, through its subsidiaries and joint ventures, aggregate assets worth Rs. 2,999 billion and has a lending book of Rs. 465 billion as of December 31st, 2017, placing it among the top 5 private diversified NBFCs in India (Source: CRISIL), the 4th largest assets management company in India by domestic AAUM as published by AMFI for the quarter ended December 2017. adityabirlahealthinsurance.com
 About MMI Holdings:  MMI Holdings Limited (MMI) is a South African based financial services group listed on the South African stock exchange, the JSE.  The group operates in the market through multiple client-facing brands including insurance and investment brands Metropolitan and Momentum, South Africa's number one cell captive insurer Guardrisk and wellness & rewards programme Multiply. MMI operates in 17 countries across the globe: 13 in the African continent, Hong Kong, Indonesia, United Kingdom, and India through a direct presence, strategic partnerships and joint ventures.  Visit us at www.mmiholdings.co.za