by Suman Gupta
In Indian tradition peacock symbolizes Royalty with Spirituality and exemplifies the beauty of nature with its vibrant colors and gleaming hue. This was the inspiration for design when Navrathan  Jewellers designed their Jhumkas.  Jhumkas are a major fashion statement these days as they are best suited with an array of traditional attire and designer outfits. Timeless designs cast in pure gold with glamorous precious colored stones, make a statement and set new standards.
In India, the Peacock is associated with the Goddess Lakshmi who represents wealth, patience, kindness and luck. Navrathan Jewellers captures the true spirit of nature at its best with their exclusive Masterpiece. This bold jewellery collection is the perfect embodiment of the feminine spirit, stunningly opulent with a subtle and elegant touch to make every woman feel and look special.
Timeless precious stones, Rose cut diamonds, Rubies and Polikes made by master crafts- men in gold make this an heirloom for every Indian home.
Description of the Jewellery: (Pictures attached)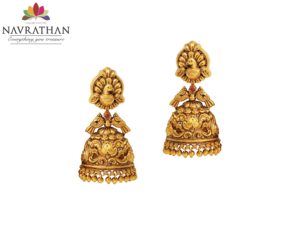 Image 1: Wishing swirls of seductive gold take the shape of the ear, taking adornment to new heights. Embellished with red precious stone, they cast a mesmerizing duet. These gold earrings borrow their design and vibrant hues from the royal peacock, creating a masterpiece in craftsmanship and beauty. The sheen of gold and the presence of Goddess wealth 'Laxmiji' as the earrings descend into attractive tinkling cupolas with the small gold balls at the end.
Price on request.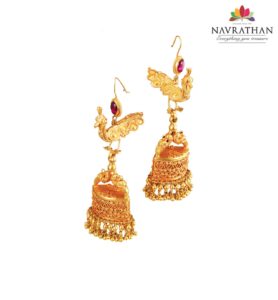 Image 2: The beauty of these ethnic earrings lies in their being completely hand-crafted and traditional. Nothing befits Indian ceremonies more than the auspicious colours of red and gold. These jhumkas exude a ceremonial air, reflecting exquisite workmanship in gold and delicate filigree work; the earring lends the adorner an edged with shimmering gold beads and the design of a flying peacock.
Price on request.
Visit: http://navrathan.com/
About Navrathan: Since 1954, Navrathan Jewellers has quietly wowed the cognoscenti of Bangalore with its breathtaking designs, intricate craftsmanship and antique techniques. Every Navrathan store is a treasure trove of gold and platinum jewellery inspired by tradition, and embellished with brilliant-cut diamonds and precious gems.
Mr. Gautam Chand Bafna, the Managing Director of Navrathan has been a pioneer in many ways, having been the first to integrate antique temple jewellery designs into modern settings that are style statements in themselves. Be it faceted diamonds, Jadau or Meenakari, Navrathan strives to create an heirloom with each of its pieces. With intricate, handcrafted designs, Navrathan offers jewellery for every occasion. Simply walk into our store, or look through our website to get an idea of the sheer range and variety we offer – every piece from Navrathan is an ode to the neo-classical woman.