by Suman Gupta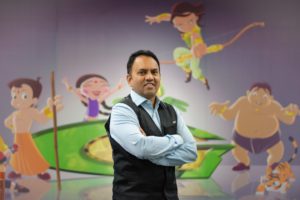 Mumbai: Chhota Bheem celebrates 10 years on television. An entire decade of making kids smile, dance and sing with him. Chhota Bheem- a dhoti clad child with large expressive eyes and an all-knowing enigmatic smile came into existence in 2008 and walked his way into our hearts to become the most loved and recognized animated character of our country.
Conceptualized in 2003, by Mr. Rajiv Chilaka, Founder CEO, Green Gold Animation, Chhota Bheem debuted on Indian television screens in 2008 when Turner Broadcasting System, launched it on their kids entertainment channel, Pogo. Since then, Chhota Bheem has undertaken a miraculous journey to become the most successful homegrown animated series in India.
Chhota Bheem, over the last 10 years, has transformed into a household name, become a brand and flitted through the hearts of young ones. The unprecedented success was a shot in the arm for the Indian animation industry as it paved the way for many other animation series with an Indian narrative. Speaking at the occasion, Mr. Rajiv Chilaka said, "I am fortunate to be the Creator of Chhota Bheem and am thankful to the kid audiences across India & Asia. Producing a show in Animation is not a one man's show.. it needs a team.. a large one.. Together we have achieved this one.. I want to thank the entire team at Green Gold, Writers, Voice Artists, Voice Director, Singers, Music Director, my family and friends. Above all I would thank the Team at POGO and the management at Turner."
Today the Prince of Indian Animation has starred in 277 episodes and 26 Television movies. After conquering the small screen, Bheem made a very successful transition onto the silver screen with three theatrical releases, Chhota Bheem and the Curse of Damyaan (2012) followed by Chhota Bheem–the Throne of Bali (2013) and Chhota Bheem-Himalayan Adventure (2016). Bheem's next big screen offering, Chhota Bheem-KungFu Dhamaka (2018), has already set standards by winning the Best Animation Promo Film at the FICCI Frames, BAF Awards, 2018.
Commenting on the occasion, Krishna Desai, Executive Director & Network Head – Kids, South Asia, Turner India "We have been truly privileged to have made a significant impact upon the lives of millions of children across South Asia and beyond, through our partnership with Green Gold for what is today the iconic Indian animation. This decade marks not just a significant milestone of the association between Pogo and Green Gold, but also of the gold standard set by them for the wider Indian animation industry. A big shout out to the fans, all the wonderful folks at Green Gold and Turner team on the occasion of a remarkable 10 years of Chhota Bheem."
After the launch of the show, everybody was in love with Bheem and wanted his merchandise too. This led to the creation of Green Gold Licensing and Merchandising. Chhota Bheem has been one of the most Licensed property since 2012. Under Chhota Bheem license, Green Gold Licensing & Merchandising has more than 4000 SKUs and has partnered with over 100 brands such as Asian Paints, Dabur, Mattel, Kellogg's, Godrej, Hindustan Unilever, Parle-G and Kokuyo Camlin to bring the magic of Bheem into the lives of adoring fans.
At the heart of Chhota Bheem's success has been universal storytelling coupled with state of the art animation. Although rooted in Indian culture, the versatility and appeal of Chhota Bheem has transcended the boundaries of region, culture and language. Over the years, Bheem has been popularly received across Asia, Middle East and Northern America.
Bheem has grown from strength to strength and continues to be the torchbearer on TV. With the emergence of OTT platforms, kids will now be able to view their favorite Bheem when they want and where they want on Amazon Prime Video and Voot. Soon, Bheem will be seen in a new avatar in Mighty Little Bheem, Netflix's first kids' original series from India. With this association, Bheem will extend his ever-growing reach to over 190 countries worldwide.