Analysis of home search trends in 25 cities indicates 173% growth in traffic from tier-II cities from Q1'FY17 to Q1'FY18
by Suman Gupta
National, April, 2018 – With the current enthusiasm witnessed by the Indian real estate sector, the number of consumers looking for property in tier-II cities has grown significantly between Q1'FY17 and Q1'FY18, suggests the data trends by makaan.com. An analysis on home search trends conducted in 25 cities of India indicates 173% growth in traffic from tier-II cities between Q1'FY17 and Q1'FY18.
On the lookout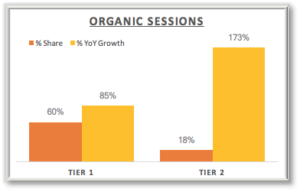 Visakhapatnam (Andhra Pradesh) registered the highest growth in terms of searches at 489% YoY followed by Patna (Bihar) which saw visits growth by 400% YoY
Coimbatore (Tamil Nadu) and Bhubaneswar (Odisha) followed closely, at 334% and 319% growth in searches
Additionally, Ahmedabad, Lucknow, Indore, Patna, and Jaipur emerged as visible gainers where searches had grown remarkably
Leading in the right direction
Lead generation from tier-II cities accounted 23% to an overall lead generation which grew by 242% between Q1'FY17 and Q1'FY18. While 60% of this growth in Tier-II cities was with respect to the capital market, the remaining 40% was in the rental market
Surat witnessed the highest lead generation in Q1'FY18 at 758% followed by Visakhapatnam at 532% and Coimbatore at 428% respectively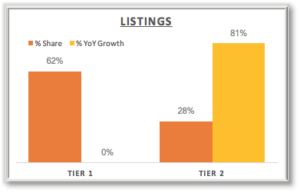 Listing it out
Overall listings have grown by 22% in Q1'FY18 when compared to Q1'FY17. Of these, 88% are buy listings while the remaining are rent listings
Lucknow (UP) saw 16.2% increase in new listings followed by Ahmedabad at 11.7% between Q1'FY17 to Q1'FY18
Ravi Bhushan, Group Chief Product and Technology Officer, Housing.com, PropTiger.com, Makaan.com said, "There is a clear trend that comes to the fore with respect to the demand and supply equation in tier-II cities. These cities are doubling up as major centres of economics and that is evident in the way that the housing market is shaping up. This pick-up in listings, searches and the intent of people to inquire about a purchase is encouraging for the real estate market in India."
"Sentiments in the real estate market has been dim in general in the past couple of years. The fall in property prices was also not enough to improve buying sentiment. However, new trends have now emerged in the property market, and they seem positive. The adverse effect of all the reformatory measures including launch of demonetization, Goods and Services Tax, real estate law and the insolvency code on the property market is about over," added Bhushan.
The 15 tier-II cities included in the analysis include Ahmedabad, Lucknow, Indore, Patna, Jaipur, Ghaziabad, Mohali, Coimbatore, Nagpur, Bhubaneswar, Vishakhapatnam, Surat, Vadodara, Faridabad and Zirakpur.  The overall numbers reflect contribution of 10 major cities, including Bengaluru, Chennai, Delhi, Greater Noida, Gurgaon, Hyderabad, Kolkata, Mumbai, Noida and Pune.
About Elara Technologies Pte. Ltd. 
Elara Technologies Pte Ltd is a Singapore-based technology services company and is the owner of Housing.com, PropTiger.com and Makaan.com. The company provides digital real estate marketing and transactions services. PropTiger.com and Housing.com merged in January 2017 to create India's largest full service online-to-offline (O2O) real estate platform.
Founded in 2012, Housing.com is India's most innovative real estate platform for buying, selling and renting homes. The company offers the largest selection of verified listings in India through a trained team of data collectors, analysts and auditors. The one-of-a-kind Data Sciences Lab at Housing.com analyses a significant body of information to allow buyers and sellers to make intelligent decisions.
PropTiger.com is India's leading real estate advisory firm offering a one-stop platform for buying residential real estate. Founded in 2011 with the goal to help people buy their dream homes, PropTiger.com leverages the power of information and the organisation's deep-rooted understanding of the real estate sector to bring simplicity, transparency and trust in the home buying process.
PropTiger.com helps home-buyers through the entire home-buying process through a mix of technology-enabled tools as well as on-ground support. The company offers researched information about various localities and properties and provides guidance on matters pertaining to legal paperwork and loan assistance to successfully fulfil a transaction. Since inception, the PropTiger.com team has facilitated the sales of close to 20,000 homes worth nearly US$2 billion.
Makaan.com was acquired by Elara in May 2015, with a vision to establish a true "marketplace" in real estate. With consumer ratings on more than 10,000 sellers, credible listings data and real-time intelligence on property search, makaan.com has quickly emerged as the preferred partner for consumers looking to rent, buy or sell a home. With its unique pay as you earn model and value proposition of no upfront listings fees for sellers, makaan.com has grown to have more than 10,000 active sellers in a short span of time. makaan.com offers its online consumers the maximum property options and has become one of the largest platforms in online real estate in India with over 800,000 properties listed across the country.