by Suman Gupta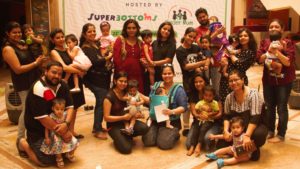 April, Mumbai:  India's No 1 eco-friendly cloth diaper brand, Superbottoms hosts the 'Great Cloth Diaper Change', in Mumbai as a part of the global revolution wherein more than 4000 eco-conscious parents across 14 countries including India, Argentina, Australia, Belgium, Canada, England, Finland, Japan, Mexico, Panama, the Philippines, Puerto Rico and South Africa switched to clothes diapers in one go creating a World Record of maximum cloth diapers changes within 24 hours. The Mumbai chapter of the worldwide event was hosted by Superbottoms at Powai Plaza, Hiranandani Gardens, Mumbai and witnessed a footfall of more than 100 parents along with their babies in the age group of 0-3 years.
At 11 am sharp, these mothers swapped the diapers of their babies from disposable plastic variant to reusable cloth diapers with the goal to generate awareness of eco-friendly and sustainable diapers for babies.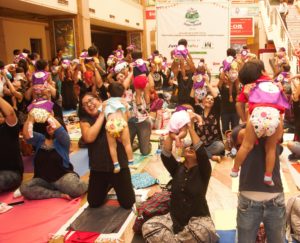 In contrast to the disposable diapers, cloth diapers are not just great for the baby's skin but are extremely eco-friendly and economical on the pocket owing to its reusability factor. With a unique dry-feel layer and long hours absorbency, they are just as great in performance too. Superbottoms is India's 1st Safety Tested Cloth Diaper brand as per US safety standards and is working towards spreading awareness of the concept of reusable cloth diapers.
"Eco-friendly diapers are the need of the hour as it is not just safe for the baby but also does not harm our environment as compared to disposable alternatives. As Indians, we are already educated on the benefits of the traditional "Langot' which is used even today. Cloth diapers bring the benefits of a langot and at the same time, have great absorption levels making them super convenient, like a disposable diaper. The Great Diaper Change is a global initiative and Superbottoms is proud to represent its Mumbai chapter. The response from mothers was overwhelming and has reinstated our faith in the product category", said Ms Pallavi Utagi, founder Superbottoms.