by Suman Gupta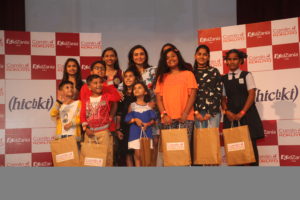 Mumbai, April, 2018: Rani Mukerji visited Kidzania, an Indoor Global Theme Park at R-City Mall in Mumbai today for a Meet & Greet with winners of the Camlin-Hichki Contest.
The contest, 'My Hichki Moment' wherein the participants had to talk about an experience or a difficult situation that they overcame in life with #MyHichkiMoment in the form of a sketch or a video, was concluded on the Facebook page of Kokuyo Camlin.
This contest saw active participation and some interesting stories of students overcoming their hurdles and proving themselves. Rani Mukerji gave away Kokuyo Camlins gift hampers to 5 social media contest winners as well. After the felicitation, Rani Mukerji answered some questions by journalist and also some budding journalist kids at Kidzania.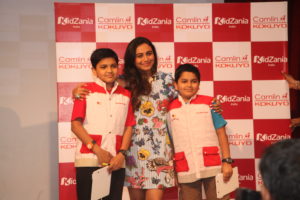 Along with the social media contest, there were other contests held too, one at Camlin Arts & Crafts Studio at KidZania wherein kids made greeting cards and wrote few beautiful thoughts about their teachers and coloured it. Also at the Camlin Painting Studio, the kids painted the new KidZania logo.
About KidZania: KidZania is an interactive city made for children 1-14 that combines inspiration, fun and learning through realistic role-play, making KidZania one of the fastest growing global learning and entertainment brands in the world. Kids can independently explore a scaled indoor city of over 7,000 square meters with more than 100 exciting careers that they can try.
About Kokuyo Camlin Ltd : Kokuyo Camlin Limited www.kokuyocamlin.com (formerly known as Camlin Limited)  is in the business of  marketing and selling of art materials and stationery products under flagship brands Camel and Camlin which have been in existence for more than 80 years . The company offers a wide range of products such as Fine Art materials, scholastic colours and stationery, hobby products, office products, writing and drawing instruments, adhesives and notebooks.
About Yash Raj Studios: Yash Raj Films [YRF] is one of India's oldest and most respected story-tellers. A 4 decade old film & entertainment company with a fully integrated presence across the entire value chain covering everything from production, worldwide distribution, marketing, home entertainment & brand partnerships to design, licensing, consumer products, interactive media & talent management with offices across India and in US, UK & UAE differentiates it from all studios in the country.