Revival Indian Thali Winner of 2018 Experts' Choice Award
Revival Indian Thali has been chosen as a recipient of the TripExpert Experts' Choice Award.
Fewer than 2% of restaurants worldwide receive the award
by Suman Gupta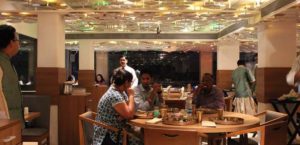 Based on 1M+ reviews from 85 different publications, the award recognizes the best restaurants around the world. TripExpert takes a new approach to ratings by using only professional reviews from travel guides, magazines, newspapers and other respected sources. With accolades from sources such as Afar Magazine and Lonely Planet, Revival Indian Thali is one of the best rated restaurants in Mumbai on TripExpert. Revival Indian Thali has also received TripExpert's Best of Mumbai award. Reviewers agree that it is an outstanding choice for dining out in Mumbai.
About TripExpert : Based in New York City, TripExpert aggregates professional reviews of hotels, restaurants and points of interest. On TripExpert.com, travelers can read over 1Million reviews from leading travel media. TripExpert provides an alternative to crowdsourced review sites.
This year's awards for the world's best hotels, restaurants, and attractions are based on over 1 million reviews from 85 travel guides, magazines, newspapers and blogs.
Experts' Choice is the only award that aggregates the advice of professional travel writers. Experts' Choice is highly selective. Over 400,000 hotels, 1.5 million restaurants, and 300,000 tourist attractions were considered for the award; about 2.5% of hotels, 0.5% of restaurants and 1.5% of tourist attractions were selected.
We're excited to announce the winners of our third annual Experts' Choice Awards. This year, 24,000 outstanding hotels, restaurants and tourist attractions around the world have earned the award. For the first time this year, we are also announcing destination winners in several categories, including best emerging destination, best budget destination, and best overall destination. As in previous years, hotels in Europe were the most critically acclaimed. This year, restaurants in North America performed especially well, picking up over 5,000 of the approximately 8,000 awards.
About the winners : Our winning venues cover 124 countries and span a wide range of establishments, from luxury hotels to highly recommended hostels and from Michelin-starred restaurants to food trucks. What they have in common is expert consensus that they're among the best in their respective categories.
Award criteria : Experts' Choice is awarded to hotels, restaurants, and attractions that both have a TripExpert Score of 70 or more and are in the top 10-20% of comparable venues in the same destination. The TripExpert Score is calculated based on how many of our 85 source publications have recommended the venue and what they have said about it. A number of adjustments are made, for example to account for the fact that newly opened venues may not yet have been widely covered in the press. Our scoring system is objective and impartial; the TripExpert team makes no decisions about whether particular venues will receive the award.