Launches New Variants of Safewash & Softouch in Northern markets
by Suman Gupta
Bangalore, March, 2018: Strengthening its portfolio in the personal and household care segment, FMCG major Wipro Consumer Care & Lighting has expanded its range of Safewash, the liquid detergent brand. The company has announced the launch of its new variants – Safewash MATIC series (Liquid detergent) and Softouch fabric conditioner (after wash) in the northern market. Popular Bollywood actress Juhi Chawla, the brand ambassador of Safewash launched the range in Delhi and supported the environment friendly formulation of the product.
Aimed at consumers of urban households who use the washing machine and prefer liquid detergents, the company is extending the presence of its Safewash brand to Matic series which can be used through the year during all seasons. The series includes Safewash Top Load Matic liquid detergent and Safewash Front Load Matic liquid detergents. Wipro Safewash has an advanced formulation enriched with the goodness of Neem to provide germ-free protection. It does not contain harmful chemicals hence doesn't shrink or lose colour an shine, keeping the garment soft and fluffy even after repeated washes.
Post the success of Wipro Softouch fabric conditioner in South India, Wipro Consumer Care is extending this product to other regions of the county as well, particularly the North. Softouch encapsulates fragrance in crystals that stay long after washing and rinsing. The fragrance is released in bursts when the clothes touch your skin, making you feel fresh and comfortable all day long. The brand is available in two variants: Ocean Breeze and Garden Bouquet.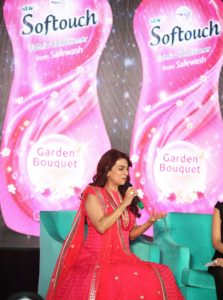 Said Mr. Anil Chugh, Chief Executive at Wipro Consumer Care, "We recognise consumer needs are dynamic and there is a steady preference for liquid detergents and fabric softeners among urban consumers. Our brands cater to their specific needs and provide a superior laundry experience. We test launched the brand in select markets and found encouraging results. Our attempt is to create newer consumption opportunities in the household laundry segment with premium products across the wash cycle – both pre and post wash. We would like to position Safewash as the total laundry expert."
The recent acquisition of Pahnli detergent brand in China gives us the technology and formulation to innovate new variants in time to come, he adds.
The liquid detergents market is estimated to be about Rs 360 crore and growing at 41 % per annum.
About Wipro Consumer Care and Lighting group : Wipro Consumer Care and Lighting, a part of Wipro Enterprises, is among the fastest growing FMCG businesses in India. Wipro Consumer Care's businesses include personal wash products, toiletries, personal care products, wellness products, electrical wire devices, Domestic and Commercial lighting and Modular office furniture. It has a strong brand presence with significant market share across segments in India, South East Asia and the Middle East.