WIAA is organizing this event to spread message of women's safety
by Suman Gupta
Mumbai, March 8:  The much-anticipated and hugely-successful "Women's Car Rally to the Valley" will be held on Sunday, 25th March, 2018. This car rally is basically being organized to spread the message of women's safety and to celebrate International Women's Day. The immensely popular annual event organized by the Western India Automobile Association (WIAA) in partnership with Lavassa City, and presented by JK Tyres and powered by Motul  – is expected to see participation from a total of 800-1000 women across the city and almost 200 cars.
The 10th edition of this all-women car rally will commence from NSCI, Mumbai at 06:30am and proceed through the city's major landmarks such as Hajji Ali, Peddar Road, Chowpatty, Marine Drive, Churchgate before concluding at Lavassa City near Pune.  A team of celebrities will be present at the key points throughout the route of the rally to encourage the participants. The women drivers will be ensured a smooth ride with safety volunteers to be stationed throughout the route.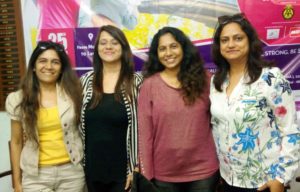 Explaining the rationale behind a car rally for women, Nitin Dossa, Executive Chairman, Western India Automobile Association (WIAA) said, "Since WIAA's prime focus is creating awareness in society about road safety, we have now taken the initiative to create awareness about women's safety on roads, in public transport and in public places."
Mr. Dossa also announced the 1st International expedition with all Women driven cars in the month of October and the flag-off will be done from Guwahati, Sikkim. This would be a 15-day rally from India to Thailand travessing through picturesque Myanmar and culminating in Sukhothai, Thailand during the 2800 kms journey. This would also include motorbikes with the surge in women ridership in India. All details can be procured at WIAA.
Parul Shah, a participant who has been through all the nine editions of the Women's Car Rally to the Valley said the importance of reaching the destination was not about speed but timing. "If we drive fast and reach before the slated time then we are penalised. Even reaching late we are deducted points. Hence, timing the entire race is very important," said Shah.
Talking about the event, Mr Praveen Sood, CEO – Lavassa City said, "Women – whether as Mothers, Sisters, Daughters, Friends or even as individuals and gender groups – have important role to play in everyone's life. While they have important role to play in the running of families, a number of Indian women have also made the country proud with their achievements. The participation of women in most fields has increased significantly in the last few decades in India. From politics to corporate sector, and from education to sports, women have not only matched up with men, but they have shown better participation and performance. With their contribution so significant to nation-building, it is national irony that their safety is still not guaranteed in the country. Our rally aims to give voice to women's safety concerns."