An Experience For Lovers Of Art And Innovation that Redefines the Luxury Bathroom Segment
 by Suman Gupta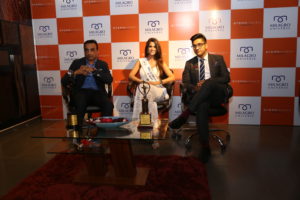 Mumbai, Wednesday, 7th March 2018: Germany's premium Sanitaryware brand Sternhagen, is pleased to announce the launch of its in-store boutique atMilagro Universe an exclusive 7-storey studio in Chembur, Mumbai. Sternhagen is a multiple award-winning luxury brand that aims to offer high quality, state-of-the-art products that are artistically designed, yet engineered with cutting-edge proprietary materials and technologies at its new boutique. With a modern and aesthetic appeal, Sternhagen is the all new pedestal of high-end luxury, that will not only elevate the ambience and sophistication with its coveted products but also heighten the curiosity of its exquisite clientele. To celebrate the grand opening, Ms. Korinna Kocsis, who holds the respectable title of Miss Hungary and Miss Supranational Europe- 2016, graced the event as  the honorable Chief Guest.
Having carved a niche for itself as a world-class brand offering bathroom suites that provide an unparalleled experience for lovers of art and innovation,Sternhagen has unveiled its latest bathroom suites at its all-new boutique in Chembur, Mumbai. Right from exciting thought provoking products to create the perfect blend of fine art and flawless engineering, the brand aims at raising the bar of excellence in design. The stellar boutique showroom sprawls lavishly across the Milagro Studio, which can easily boast of being amongst the largest studios in the country.
Sternhagen's USP is to provide customers with a wide variety of designer Sani quartz bath suite products ranging from washbasin to bath tubs to faucets to tiles and other various bathroom products, that are at par with the international industry scale. Bringing their Art meets Engineering motto to life, the brand promises to be the go-to place for all those inclined towards a luxurious and sophisticated bathing experience, well matched with durability and style. Its product offerings complete the luxury experience of a home with its tasteful, sophisticated designs which includes tiles, basins, basin mixers, sanitary, bathtub and showers. It will also showcase four award-winning suites that have been inspired by elements of nature, re-invented through technology and engineering. Namely, the urbane Pent Suit, arrestingly textured Düne Suite, virtually mimicking the uniqueness of Nature is the Kristall Suit and lastly embodiment of softness and elegance of flower petals the Seerose Suite.
Since unveiling their collection of premium basins in the marketplace Sternhagen have been honored and recognized by several prestigious design and architecture organizations. In 2015 Sternhagen earned RedDot design's distinction for being in the forefront of intelligent and well-conceived design. In the same year, Sternhagen's Kristall basin product was honored with the iF Design award for design excellence.
Speaking about the opening, Mr. Chirag Parekh, Chairman and Managing Director at Acrycil Ltd said, "Being a pioneer in luxury sanitary ware, Sternhagen designs are a timeless elegance. We have been touching lives and lifestyles ever since we forayed into the Indian market. Our boutique showroom will further amplify our legacy of being not just the finest, but the most luxurious brand that is crafted with sheer perfection and expertise of German technology. As a design-driven brand, we will constantly innovate to create products with new expertise and designs that are worthy of the Sternhagen name."
Speaking about the launch and association with Sternhagen, Mr. Suresh Jain, Managing Director, Milagro Universe, said, "We at Milagro always place consumer satisfaction at the top and our affiliation with Sternhagen is our endeavour to engage with a brand that is  innovative and utilitarian as well a leader in this market, with high-quality products that resonate with its customers as well. Together we aim to reflect the changing tastes of India as well as the world today."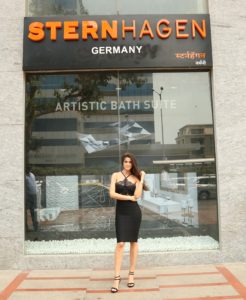 Commenting on the in-store boutique launch, Chief Guest, Ms. Korinna Kocsis, Miss Hungary and Miss Supranational Europe- 2016, said, " It is indeed a pleasure to be associated with such a stellar brand that bespeaks luxury and elegance.There is so much of richness and detailing in each product offering  that as a consumer it is going to be a marvel of technology to purchase and consume in our everyday life. The experience in itself is going to be beyond what any luxury brand can offer."
Sternhagen believes that the value of high-quality engineering and artistic design goes beyond luxury to create an environment that elevates one's sense of wellness and satisfies the desire for beauty.
About STERNHAGEN :Sternhagen is a premium brand for sanitary ware and bathroom fittings committed to supplying high-quality products that enrich the daily bathroom luxury experience. Born in 2012, the fast-growing Sternhagen brand brings together the best of German design, engineering and world-class manufacturing practices, reflecting their philosophy of 'Art Meets Engineering'.  The range consists of state- of -the art washbasins, basin mixers, WC's, bathtubs, showers and accessories complementing the concept of the five artistic bathroom suites. Since 2016 Sternhagen has been successfully present in the Indian market with their flagship showroom in Ahmedabad, Gujrat and has recently launched a new store in Mumbai this year.
 About ACRYSIL LIMITED :Acrysil Ltd. is a premium brand for residential and commercial kitchen equipment committed to supply high quality products that enrich the daily kitchen experience. Born in 1987, the fast growing Acrysil brand brings together the best of German design, engineering and world class manufacturing practices, reflecting their philosophy of 'Technology and Innovation'. The brand sells to discerning customers in over 40 countries worldwide like USA, UK, Germany, France, Canada, China, Far East and Gulf Countries. Acrysil has also set up a wholly owned subsidiary, Acrysil GmbH in Germany in order to further strengthen its presence in the demanding European markets.