by Suman Gupta
Mumbai, February 2018: To create awareness about the ill effects of child labour in Mumbai Infiniti Mall Malad in association with Joint N Motion held The HDFC Bank Malad Run today. The prominent personality like Siddharth Kannan was seen amongst many running enthusiasts who participated in the run.
Affiliated to the Mumbai Athletic Association, the run was categorized starting with 10 km, 6 km and 3 km for runners to participate respectively. Organisers of the marathon have spared no efforts in ensuring that the runners are well looked after during the course of the run. The 10-km stretch for the Elite Runners started from Infiniti Mall Malad at 6.30 am morning, passed through Mindscape garden and Inorbit mall with 2 loop to finish at Infiniti Mall, Malad followed by 6-km and 3-km at 7.15 am and 7.30 am respectively.
About Infiniti Malls: Infiniti Malls, subsidiary of K. Raheja Constructions, is leading destination for shopping, food and entertainment. The mall began its journey by opening the first mall at Andheri in 2004 and at Malad, Mumbai. Today, spread across 3,10,000 sq ft with 65 stores, six-screen multiplex (PVR Icon), food court, family entertainment centre at Andheri the mall is setting a benchmark by providing an excellent shopping experience for customers. With more than 180 shopping brands, 36 food outlets, an FEC spread across 60,000 sq ft named Fun city, Infiniti Mall, Malad is one of the biggest mall in Mumbai. The mall has won numerous awards since inception and been recognized at various national and international forums like IMAGES, CMO Asia, ET Retail and more.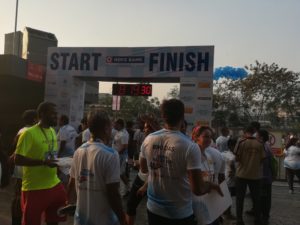 About the HDFC Bank Malad Run:The HDFC Bank Malad Run aims to create awareness about the ill effects of child labour in Mumbai. And this is the chance to pledge peoples support for this cause and to say NO to child labour. The marathon is affiliated to the Mumbai Athletic Association and will serve as a qualifier for all major marathons in the city. If you are still looking for a reason to start running, there is no better one than this!