by Suman Gupta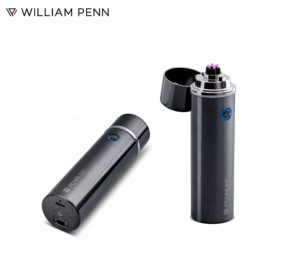 William Penn, India's largest retailer of top-of-the-line writing instruments and premium lifestyle and business accessories, presents two versatile "Pennline rechargeable lighters."
Pennline Rechargeable lighter with Dual Plasma Arc
This versatile and sophisticated looking rechargeable lighter is wind proof and flameless, thus making it a clear winner in all outdoor and weather conditions. Unlike flame lighters, this handy little wonder can work in any direction and light practically anything that is exposed to its plasma arc: Candles, Wicks, incense sticks or paper. It is easy to light at the click of a button and can be used for micro USB recharging. It is very convenient and safe because it does not use butane, liquid gas or any other chemical. It has an impressive life-cycle as it can light upto 18000 times.
Crafted in metal with exciting finish and colors like gun-metal grey, bright matte finish blue, mock animal print, ivory mist grey: it adds flair to the lighter. The Arc-type is dual plasma pulse Ignition. A USB cable is provided with the product for micro-charging. The full charge time is approximately 45 minutes: power is USB De 5V. The inbuilt Lithium Ion Battery has a 2 year life span with regular usage (300 charges)
Price Range:  Rs. 1995/-
PENNLINE RECHARGEABLE LIGHTER WITH TRIPLE PLASMA ARC  :The unique Pennline Rechargeable lighter with Flameless Triple Plasma Arc is a must have for every executive: It is Windproof & flameless lighter which can work in any direction unlike flamed lighters. Its unique arc design helps light up even flat surfaces. It can light practically anything when exposed to its plasma arc. e.g., paper, candles, wick, incense sticks. Pennline Rechargeable lighter with Flameless Triple Plasma Arc is very easy to use, lights at the click of a button; it is USB Rechargeable lighter. In this lighter no Butane, no liquid gas, no Chemical has been used. This lighter's life span is it can light up to 18000 times. The body material of the lighter is metal Dark grey with cylindrical shape. Arc type of the lighter is triple plasma pulse ignition which has micro USB charging, (USB cable provided with the product) the charge time is approx. 70 mins and the power of the lighter is USB DC 5V, it also has Inbuilt Lithium ion which is up to 550mAh and Inbuilt Battery life Up to 2 years with regular usage (up to 300 charge dedicated on / off switch).
These Pennline lighters are yet another handy, must-have products that adds to the convenience of the busy executive's life with a lash of style.
Price Range: Rs. 2695/-
Pennline flameless, stylish lighters are available exclusively at William Penn stores and online at www.williampenn.net
About William Penn: William Penn, the purveyor of premium writing instruments, started its operations in the year 2002, as a stationery and writing accessories store in Koramangala, Bangalore. In 2004, the first exclusive writing instrument store was established at Forum Mall, Bangalore. William Penn today has 28 exclusive outlets across 11 cities and more than 20 globally renowned brands on offer. From retailing at the best locations to offering a curated range of lifestyle accessories sourced from across the globe, William Penn takes that extra effort to give customers a world-class shopping experience.
To locate the closest William Penn store, log onto https://www.williampenn.net/