by Suman Gupta
Dehradun, January 2018:After signing an MoU with the Uttarakhand government for supporting 30 schools with skill development programs, Birla Edutech's next step is to improve health facilities in the state. Birla Edutech Ltd's Head, Business Development, Nirvaan Birla and Yash Birla Group's Chairman Yash Birla met with Sri Trivendra Singh Rawat, Chief Minister of Uttarakhand, and his cabinet of ministers. The meeting was aimed towards carving out a path to work in synergy with the government for the betterment of state in the sectors of health, education and power.
Birla Edutech Limited plans to set up hospitals and ayurvedic treatment centers in partnership with the Uttarakhand government. In order to support government's skill development program, Birla Edutech Ltd (BEL) also plans to set up training centres for local nurses and ayurvedic therapists. Furthering their focus on education, BEL is in talks with the Uttarakhand government to set up ICT projects to facilitate digital learning for Math and Science in K12 schools via projectors and BEL content.
Sharing his views, Mr. Nirvaan Birla, Head- Business Development, Birla Edutech, said, "This is a great start to 2018 via a refreshingly long and productive meeting with the Chief Minister of Uttarakhand, Sri Trivendra Singh Rawat, along with his entire Cabinet of Ministers. I am looking forward to working with this pragmatic Cabinet in the sectors of Education and Health. I also had the opportunity of visiting and participating in the English vocational sessions that we are conducting across 30 schools in Uttarakhand."
Yash Birla, Chairman, Yash Birla Group said, "The meeting with honorable Chief Minister and his able and progressive cabinet was a rejuvenating experience that has opened several opportunities for us to deliver to the students and people of Uttarakhand. At Yash Birla Group (YBG), we have always looked at implementing ideas at the grass root level. Birla Edutech Limited – a Yash Birla Group company – has taken this initiative as their responsibility to provide better education across government schools in the state."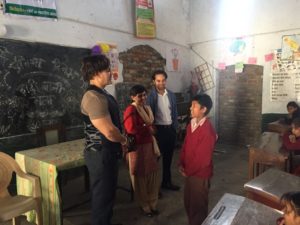 BEL has already submitted proposals for taking over management of government hospitals in Rishikesh and Dehradun and to implement ICT smart schooling projects across government schools in the state. Under the Sarva Shiksha Abhiyan, it has been conducting English speaking sessions for state schools in Uttarakhand.
About Birla Edutech Limited:Birla Edutech Limited – a Yash Birla Group company started its journey in 2008 to revolutionize education in India, by becoming educational transformers for learners across all educational segments – be it Preschool, K-12 school, Sports education, technological or vocational education. With over nine years of experience in the educational zone, Birla Edutech has a complex network of over 60 educational institutions extended across India. The growing network of Birla Edutech has many brands under its umbrella; whether it's a Preschool Franchise or a Full School Franchise. The extensive spectrum of Pre-Primary schools falls under the brand name of Globe Tot'ers -A Birla Preschool and Shloka- A Birla Preschool whereas the K-12 franchise schools are under Open Minds- A Birla School and Shloka- A Birla School. Some of its own well-established schools in Mumbai are Globe Tot'ers (GT) Mumbai, Gopi Birla Memorial School (GBMS) and Globe Tot'ers in Nashik. Besides these schools, Birla Edutech is also extensively involved in Teacher Training through its vertical of Birla Institute of Teacher Training affiliated with AIECCE and Birla Edutech also works towards Whole/ Partial School transformation projects across the country.