by Suman Gupta
The Caran d' Ache 849: where fashion meets Swiss precision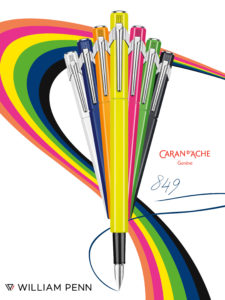 From Geneva, the home of the world's most renowned precision engineering, comes this modern marvel: the Caran d' Ache range of exclusive, sleek fountain – pens, in the 849 collection. Fluorescent, energizing colours that draws attention to the light yet robust aluminum body; these 849 pens come with its iconic look, which is a must-have for every gentleman who appreciates the bold creative spirit of Caran d' Ache, wedded to the perfection of 100% Swiss precision. The classic workmanship & craftsmanship is displayed to perfection in the hexagonal shape, highlighted by the eye-catching yellow, green, orange and more colours of the Caran d' ache 849 pen.
Caran d' Ache is fitted with an ink cartridge, where the nib is available in 3 sizes, which carries the Caran d' Ache logo. Every fountain pen comes in a red and white box. The luxury writing element has been brought to bear on this office line to create high-performance writing instruments with a touch of the Caran d' ache logo on each crown.
With its unique design the Caran d' Ache 849 fountain pen is a superb expression of the joy of giving as well as an essential daily companion. The 849 fountain pen which is competitively priced offers a resolutely modern touch to this traditional writing instrument such that the owner will want to take it everywhere!
Priced at Rs 4500/-
The Caran d' Ache collection is available exclusively at William Penn stores and online at www.williampenn.net