by Suman Gupta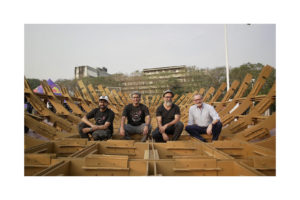 Somaiya riidl, Maker Mela; Nudes (Nuru Karim); and Jyna Packaging (Haresh Mehta) will make an Official Attempt at the Guinness World Record for the world's Largest cardboard structure during the three day Maker Mela at the Somaiya Vidya Vihar campus in Mumbai.  Over 300 students volunteer in the making of the cardboard structure. The attempt will continue for five days till January, 2018.
The Paper Boat made with 1000 sheets will be constructed using an Interlocking technique to minimise use of glue and reduce wastage.  Arrangement of the cardboards like a jig saw puzzle will help in faster assembly. Measuring 88ft(h) x 25 ft(w) x 9 ft the Paper Boat is fully deployable and comprises of 3050 interlocking CNC pieces.  The cardboard sheet size used is 40 x 60 inches and is double-layered 5ply – 6 mm thickness.
The Paper Boat project is being attempted to raise awareness about the Global Water Management crisis that the world faces as humans negotiate the conflicting needs arising from economic development, food security, poverty alleviation and climate change, 844 Million People have no access to safe water.
Says Gaurang Shetty, CEO Somaiya riidl, "What better way to inspire and innovate at Maker Mela than making something that is ecologically friendly, is challenging to build and creates awareness of environment protection – an issue that is close to the core value of Somaiya Vidya Vihar. Like a boat needs all people to work together and oar in a direction, it is only if we work together that we can address the water pollution crisis."
Says Nuru Karim(NUDES – Founder & Principal Architect) "Water conservation has posed a challenge to humanity.Here at Maker Melawe are working with eco-friendly cardboard to raise awareness about the Global Water Management crisis. By making this unique structure we will spread awareness amongst communities who will take notice through my inspiration for the cause."
Said Haresh Mehta, Jyna Packaging "Cardboard is eco-friendly, as it is made out of recycled paper. By making such huge sculpture with cardboard, we can demonstrate that with ideation and innovation – using recycling ideas, we can contribute to the cause of prevention of water pollution. I hope that seeing this will inspire Makers here to develop new ideas using recycled products"
The boat will be on display for 7 days at the Somaiya Vidya Vihar campus for people to visit. Post that it will be taken to different art exhibitions as well as across a host of locations in Mumbai to spread the message of Global Water Management Crisis & Climate Change.
Said Mr. Jürgen Wolf (Managing Director, Hafele South Asia), "It is of utmost essence that all need to be made aware of the seriousness of the issue of Water Crisis that currently is prevailing.  A project like this achieves that!  The importance of water to human beings and planets cannot be emphasised enough. Hafele supports worthy causes and is happy to associate with this '#PaperBoat – World Record' creating and eco-friendly initiative."
About Somaiya Riidl (Research Innovation Incubation Design Laboratory Foundation): A Technology Business Incubator and an Innovation Centre atSomaiyaVidyaVihar, Mumbai backed by Department of Science andTechnology, Government of India. They have catalysed more than 50 start-ups and 700 innovators. They are Fablab in association with Fab Foundation, Center for Bits and Atoms, MIT USA. Bioriidl which asIndia'sfirstDIY Biolab and BioIncubator. Somaiya Vidya Vihar is known for providing quality education for more than 60 years.
About Nude (Founder & Principal Architect NUDES):Nuru Karim, Founder & Principal NUDES received his Masters in Architectureand Urban-ism from the Architectural Association [AADRL] London, UnitedKingdom in 2006. He has worked for ZahaHadid Architects in 2005 on a host of institutional projects both in competition/ schematic design and design development stages. NUDES is an award winning practice that operates within the realm of cross-disciplinary cultures of art, architecture and computational designpowered by digital "making" tools addressing larger networks of social, culturaland the environmental. The practice seeks to create a tectonic, material andexperiential architecture that is appropriate, contemporary and rooted in itscontext, at all scales.
About Jyna Packaging (Founder of Paper Shaper and MD of Jayna Packaging Pvt. Ltd.):Haresh Mehta (Managing Director at Jayna Packaging Pvt. Ltd.), specializes in creating products with corrugated board and specialized in the expertise in engineering three dimensional shapes containers and displays. His products are made of recyclable corrugated board that is engineered for strength and durability
About Hafele India Pvt. Ltd.:Häfele set foot in India in 2001 as a liaison office essentially handling Hospitality projects for its line of Access Control Systems – Dialock. The growing hardware demand and the increasing architectural maturity motivated the company to start full commercial operations in India in 2003 as a wholly owned subsidiary by the name, Häfele India Pvt. Ltd. With its head office in Mumbai, 7 regional offices with Design Centers in all major metros and sales presence across the country, Häfele India has, over the last 13 years, acquired a leading position in the Indian Architectural Hardware Industry. Today, Häfele India employs over 650 people who cater to a wide customer base with the help of an efficient distribution network, comprehensive logistics system and a sophisticated warehouse located in Mumbai.
Häfele India lays pride in its diverse range of quality products, well-networked channel partners and unmatched service to customers; with an overall product range consisting of more than 150000 articles and more than 1000 dealers across India. With this successful backing and the promise to grow in manifolds, the company has expanded to meet the ever-growing demands not only from India but also its neighbouring countries like Nepal, Bangladesh, Bhutan and most recently, Sri Lanka. The company has also forayed into related industries by launching independent product verticals namely Kitchens, Appliances, Lights, Sanitary and Quartz Surfaces to cater to the focused demands from these industries.