by Suman Gupta
An eminent jury panel comprising of corporate strategists, academicians and thought leaders from the Healthcare Industry chose the winners for the Six Sigma Healthcare Excellence Awards 2017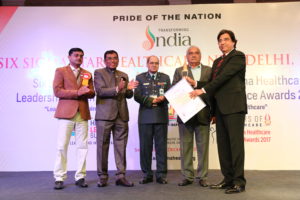 Mumbai, January, 2018: Dr. Sushil Shah, Chairman and Founder, Metropolis Healthcare Ltd., was awarded the prestigious Lifetime Achievement Award at the Six Sigma Healthcare Awards for his significant contribution to the pathology industry. The award ceremony was recently held in New Delhi. The award ceremony is organized by Dr. Pradeep Bharadwaj, CEO of Six Sigma Healthcare.
On winning the award, Dr. Shah said, "It is an honor to receive the Lifetime Achievement Award. My journey started 4 decades back and today I am proud that Metropolis is a leading healthcare brand and revolutionizing the pathology industry in every way possible. I dedicate this to my people and our customers all across the globe."
Dr. Shah was honored for his distinguished services to the country and for his outstanding individual achievements. He is credited with building the first global referral laboratory in Mumbai. A visionary, he is single handedly responsible for introducing various technologies to the nation; some of which are Radio Immunoassays, Flow Cytometry, HIV & HCV Viral Load Testing, Digital Pathology, Nephelometry, Transcripted Mediated Amplification, High Performance Liquid Chromatography amongst others which have helped improved the pathology landscape in the country. In addition, Metropolis was the first lab in all of Maharashtra to receive the CAP (College of American Pathologists) accreditation, which is a global gold standard in lab accreditations.
His academic vision and an overarching scientific outlook are the major driving forces behind Metropolis Healthcare's success. The company's DNA for quality comes from Dr. Shah's acute focus on quality lab processes and customer care.
Dr. Shah received the award in the presence of esteemed personalities such as Dr. Kirit P Solanki, Former MP, Ahmedabad, Air Marshall Pawan Kapoor, DGMS (Director General, Medical services) (AS) & Chairman, Accreditation Committee NABH and Bhupinder Singh Hooda, Ex Chief Minister of Haryana and Dr. Pradeep Bharadwaj, CEO Six Sigma Healthcare.
About Dr. Sushil Shah:Dr. Sushil Shah is the Founder-Chairman of Metropolis Healthcare Ltd. Beckoned by a strong academic career; Dr. Shah embarked upon his educational journey with the prestigious Scindia School and went onto completing his M.B.B.S in 1972 and M.D. in Pathology and Bacteriology in 1975; from Grant Medical College. In 1978, he received Research Fellowship at the esteemed Cornell Medical Centre in Endocrine Pathology. Thereon he held many prestigious academic positions and headed departments at recognized hospitals throughout his career. He has headed the RIA department at Breach Candy Hospital and Pathology Departments at Sir. H.N. Hospital, Saifee Hospital and Cumballa Hill Hospital. He has numerous scientific publications to his credit and has pioneered Radio Immunoassay Technique, HIV testing and In-Vitro Fertilization for the first time in India. He also served as a PhD teacher in Microbiology at Mumbai University in 2004 and PhD/MSc Guide by Research at Rai University in Mumbai.
Inundated with business acumen, Dr. Shah displays an exemplary mix of academic and business success. In addition to the evident accomplishments he registered as the founder of Metropolis Healthcare, he has held Directorial positions at leading corporates. A businessman of wide understanding, Dr. Shah was the Director at Dr. Reddy's Laboratories and Span Diagnostics; the Executive Director of Dr. Reddy's Diagnostic and Standard Finance Equity Fund. His entrepreneurial zeal, disposition and accomplishments made him the Ernst and Young's Entrepreneur of the Year in 2011.
Dr. Shah has made significant contributions to the overall Diagnostic Pathology Industry and continues his pursuit towards a vision of a consolidated industry in India. For his contributions he has earned national recognitions like the Rashtriya Chikitsa Ratna Award, Rajiv Gandhi Gold Medal Award; is a Member of the Committee on Diagnostics with the FDA and Research Committee of IICB, Calcutta.
His vision, scientific outlook and business insight have been the major driving forces behind Metropolis's scientific success. Today Metropolis is a leading healthcare brand, catering to over 200,000 doctors, 20,000 laboratories and hospitals, processing more than 30 million tests annually. The company's DNA for quality comes from Dr. Shah's acute focus on quality lab processes and customer care. This makes Metropolis amongst few laboratories in the country to be accredited by College of American Pathologists (CAP), and the National Accreditation Board for Testing and Calibration Laboratories (NABL).
About Metropolis Healthcare Limited : Metropolis Healthcare Ltd is a global chain of pathology labs and diagnostic centers with over 150 labs and over 1500 health centers. Metropolis was founded by Dr. Sushil Shah (Chairman) in 1981. Metropolis has one of the largest test menu offering more than 4,500 varieties of tests. We are trusted by 2, 00,000 doctors and cater to more than 20,000 laboratories, hospitals and nursing homes. Metropolis processes 30 million tests a year and is accredited by the National Accreditation Board for Testing and Calibration Laboratories (NABL) and the College of American Pathologists (CAP), the gold standard in laboratory accreditation. With 3 decades of experience in delivering accurate reports and helping doctors make right diagnosis, Metropolis has earned the reputation of being amongst the most respected healthcare brands. Metropolis offers a comprehensive range of healthcare systems and services that include Clinical Trials, Hospital Lab Management, Home Health Services, Preventive Health Check-ups and Corporate & Wellness Solutions.