by Suman Gupta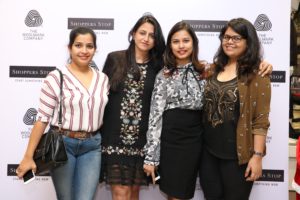 Mumbai, 2017: WoolFest 2017 is The Woolmark Company's promotion in collaboration with Shoppers Stop to showcase the consumption of Australian Merino Wool in India. As part of the Grown in Australia, Made in India campaign that highlights the farm to fashion journey of wool, WoolFest 2017 was supported by a lucky draw contest and in-store wool installations. Wool Ambassador and actor Shravan Reddy, along with talented actress Sana Amin Sheikh awarded Ruchi Jain as the winner of the contest at the Shoppers Stop store in Inorbit Mall, Malad, followed by a meet and greet with customers where they encouraged the use and integration of Merino wool as a trans-seasonal fibre into their daily wardrobe.
The lucky draw contest, that ran from December 8 to 17 2017, targeted 30 Shoppers Stop stores pan India retailing wool apparel from fashion brands. Any customer who bought wool apparel worth Rs. 5000 stood a chance to win a fully paid trip for a couple to Kullu for three days two nights and also experience the rich handloom legacy of Bhuttico, which has also been advocates for The Woolmark Company through their weaves.
The Woolmark Company Country Manager India, Arti Gudal says, "We are happy that the WoolFest 2017 has taken the farm to fashion story of Merino wool to newer audiences and have let them experience the versatility of the fibre first-hand. Our valued association with Shoppers Stop has furthered our effort in reaching out to consumers and encouraging them to use wool in fashion. The Grown in Australia, Made in India campaign showcases Merino wool along with India's handloom industry and is an endeavor we will continue pursuing."
Mr. Gopal Asthana, Customer Care Associate & Head – Buying & Merchandising, Shoppers Stop Ltd. says, "We are delighted to partner with The Woolmark Company in this effort to promote and reinforce the use of wool and woolen apparel. The Woolmark company is the leading custodian of wool quality standards and an established brand in the global fashion fraternity. We are delighted to give our customers the opportunity to experience the signature Woolmark experience"
About The Woolmark Company:The Woolmark Company is the global authority on wool. Through our extensive network of relationships spanning the international textile and fashion industries, we highlight Australian wool's position as the ultimate natural fibre and premier ingredient in luxury apparel.
The Woolmark logo is one of the world's most recognised and respected brands, providing assurance of the highest quality, and representing pioneering excellence and innovation from farm through to finished product.
The Woolmark Company is a subsidiary of Australian Wool Innovation, a not-for-profit enterprise that conducts research, development and marketing along the worldwide supply chain for Australian wool on behalf of about 60,000 woolgrowers that help fund the company.