by Suman Gupta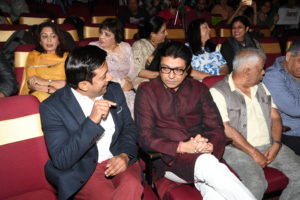 In a brief rendezvous with Raj Thackeray, Kapil Pathare, Director VIP Clothing Ltd.  at an event, the two dignitaries of their respective fields spoke lengths about politics & Kapil's last book  "A Tall Order".
Raj Thackeray was all praises for his author skills & requested him to write a book on politics. He also mentioned that, Kapil would be the best person to write about politics & dismiss all the myths about politics which prevails in people's mind.
"I am more than happy to meet Raj Thackeray. He is an icon. He is one of the most prolific personalities of politics. It  was an honor to discuss politics with him & understand his vision"says Kapil.
When asked about the topic of his next book, he said "I cannot confirm anything right now. There are many topics I would like to talk about but as of now I cannot assure any particular topic"