by Suman Gupta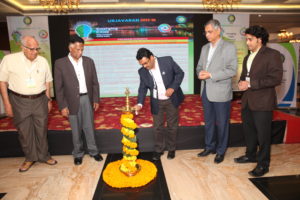 Mumbai,December, 2017 – With the view on environment challenges, sustainable development and futuristic living of the emerging cities in India, a congregation of key industry players like  architects, planners, builders and other construction professionals came together shoulder to shoulder to share knowledge and ideas in developing the emerging cities of India. The one day conference 'URJAVARAN' 2017-18 emphasised on the sustainable futuristic living in India's emerging cities.
The conference was organized by the Thane Chapter of Indian Society of Heating, Refrigerating, Air Conditioning Engineers (ISHRAE) that witnessed the presence of many renowned professionals from the region.
The flagship conference discussed and also conducted panel discussions based on various topics from HVAC Smart Homes, HVAC&R, Electricals, Fire & Safety, Building Automation & far reaching to High-performance Glass, Energy-efficient lightings, Water-treatment products.
Speaking on the occasion, Mr. Bharat Jare, President ISHRAE Thane Chapter, said "By 2025, 50 – 55 crore people will be living in urban areas and hence it is important that the emerging cities develop sustainable buildings. Also, the energy consumption per capita in urban areas in last 6 to 8 years has been around 24% to 26% which is also to bound increase in years to come.
URJAVARAN 2017 is a premier platform which serves dual purpose of business networking for constructions and buildings industry professionals where the supplier and manufacturer showcase the latest technologies, systems, market of ideas and latest products. Our aim is to create a sustainable environment with maximum utilization of available resources which will help the generations to come", he further added.
"Ishrae Thane Chapter has done a commendable job in last five years and it is playing a bigger role in the awareness of environment protection which is the national mission and vision of the association. We need to develop energy efficient buildings in the emerging cities. Water recycling within the buildings is the one of the best practices to adopt because used water that is collected for air conditioning instead of using air cooled systems or water cool systems the efficiency of air conditioning can go up by 20 to 30%. The two fundamental things in building smart cities should be developing energy efficient buildings and using high end technology instruments in constructions" said, Mr. J. Bhambure, VP, BlueStar Ltd.
URJAVARAN 2017- 18 is ISHRAE's national initiative to bring industries to participate in the activities to protect the Environment, improve Air Quality and help in Energy Conservation.