by Suman Gupta 
For the first time in Mumbai, "Institute of Cosmetology and Laser Science" (I.C.L.S.) has started modular courses, which will offer an excellent opportunity to all doctors, desiring a career in hair & skin treatments.
I.C.L.S courses are offered in computerized and modular pattern to suit individual need. Doctors from Allopathic, Homeopathy, Ayurvedic fields can take benefit of ICLS modular courses in the subjects of:
· Advanced Hair  Therapy (Trichology)
· Advanced Face & Skin Treatment  (Cosmetology)
The mission of I.C.L.S. is to make every doctor  succeed in his or her career in ethical ways.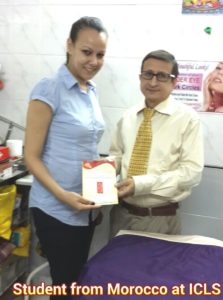 I.C.L.S. always concentrates on personal attention, simplicity & scientific contents along with very practical approach during teaching.Those doctors, who do not have time, can do the courses by 'online' modules.
I.C.L.S. has appointed Dr. Anil Nirale who is a well-known Laser and Cosmetic Surgeon, as its 'course coordinator'.According to Dr. Anil Nirale this delicate art of science must be taught with great care and must give first preference to client's safety as well as high quality results.Dr. Anil Nirale is having a reputation of being a very respectable teacher, who is expert at simplifying a complicated subject. Dr. Anil Nirale artfully balances teaching technical skills with the practices that enhance the client's appearance. ICLS guides its students to start their practice with minimal investment and maximum profit.
For more details doctors need to order institute's prospectus :INSTITUTE OF COSMETOLOGY AND LASER SCIENCE. (ICLS) 14th Floor. 1415. GOLD CREST BUSINESS CENTER. L.T.ROAD. Borivli (W).400092 India.  www.icls.in