"The Future is exciting. Ready?''
Will inspire and navigate customers to make the best of a promising tomorrow
 by Suman Gupta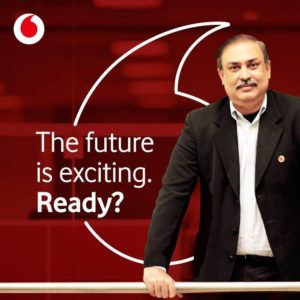 Mumbai, October, 2017: Vodafone today announced a significant evolution of its brand positioning and visual identity in India, making it the first brand with a progressive view of the world. Vodafone's new brand positioning focuses on the theme of optimism about the future and positions Vodafone as a modern contemporary, inspiring and future fit brand, using the new tagline, "The Future is exciting. Ready?"
It is a significant metamorphosis for one of India's most iconic and loved brands, since the 'Power to you' tagline was introduced in 2009. This new positioning, part of Vodafone's global rebranding exercise across 36 countries, is designed to underline Vodafone's belief in new technologies and digital services playing a positive role in transforming society and enhancing individual quality of life in the years ahead.
Launching the new brand identity, Sunil Sood, Managing Director & Chief Executive Officer, Vodafone India, said, "India is entering a new exciting era – an era of Digital, Convergence, Big Data, IoT, Cloud, Augmented Realities, Robotics and Artificial Intelligence. The real and virtual worlds are converging at an unprecedented pace to create a bold new Future. Our new brand positioning emphasizes Vodafone's mission and purpose to help customers and communities adapt, navigate and prosper from the remarkable new trends reshaping the world. At Vodafone, we are excited about the possibilities ahead and are ready to enable our customers to conquer this new world."
The new visual identity will place greater emphasis on Vodafone's iconic 'speech mark' logo – the biggest change to one of the most recognized symbols of Vodafone since the hallmark logo was created in 1998. The 'speech mark' will now appear as the central graphical focus overlaid on all marketing and marketing communications collateral. The logo will also appear in a new 2D design in place of a skeuomorphic 3D approach.
Following a dramatic rise in digital literacy and adoption in India – a trend that's being reflected across demographics and geography, Vodafone's new brand positioning is a visual and intrinsic representation of its 'Readiness' to equip and empower customers to stay connected with their world…. From saying 'Hello' with conversations on the go, accessing the myriad offerings of mobile internet, content, fin-tech, M2M and IoT solutions, Vodafone has consistently raised the bar in its offerings to cater to the evolving needs of retail and enterprise customers.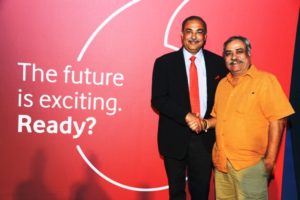 Over the years brand Vodafone has been iconic with the much loved Pug and the Zoozoos. This new positioning further strengthens brand Vodafone and takes it to the next level. A multimedia marketing campaign will look at simple human stories of embracing technology through the eyes of recent 'common man' icons Asha-Bala. These stories will be told across multiple media with a high-decibel 360-degree Campaign – from TV to Digital incorporating the latest technologies.
Vodafone believes the Future is Exciting. Ready?
Recent awards won by brand Vodafone:
'Client of the year' award at Emvies 2017
Awarded India's No 1 telecom brand in 2017 by International Brand Corporation USA
Gold for #MakeMostOfNow at the IndIAA 2017 awards (India Chapter of the International Advertising Association)
SuperNet #BeSuper campaign won the best campaign for the year in the Telecom/IT/Ecomm/Apps section at the IndIAA Awards organized by the Indian Chapter of the International Advertising Association in 2016
About Vodafone India: Vodafone India is a 100% fully owned subsidiary of the Vodafone Group Plc. with operations across the country serving over 210 million customers (over 114 million in rural areas). Commencing operations in 2007, Vodafone is today India's largest foreign direct investor, with a robust, award-winning business and committed for the long term. Vodafone Business Services serves the needs of enterprises and government by providing total telecommunications (Voice and Data) solutions across mobility and wireline platforms. Our mobile wallet, M-Pesa is a unique and innovative money transfer service from Vodafone that fosters financial inclusion.
Committed to optimizing the near-ubiquitous reach of mobile telephony to address national developmental priorities, the Vodafone Foundation partners are actively engaged in community development initiatives especially in the domains of m-Women, m-Agriculture, m-Education and Disaster Relief. Building on its global experience and expertise, an outreach across India and offering a comprehensive portfolio of technologies- 2G, 3G & 4G, Vodafone is uniquely positioned to actualize the vision of Digital India.
Globally, Vodafone is one of the world's largest telecommunications companies and provides a range of services including voice, messaging, data and fixed communications. Vodafone has mobile operations in 26 countries, partners with mobile networks in 49 more, and has fixed broadband operations in 19 markets. As of 30th June 2017, Vodafone had 523.5 million mobile customers and 18.5 million fixed broadband customers, including India and all of the customers in Vodafone's joint ventures and associates. For more information, please visit www.vodafone.com.