Arjun Kapoor gets his kicks, joins FC Pune City as co-owner
by Suman Gupta//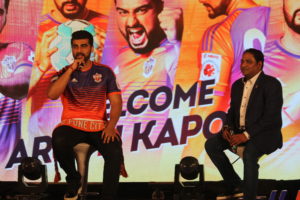 Mumbai, Pune, October 26 2017: The Rajesh Wadhawan owned Indian Super League (ISL) franchise FC Pune City  announced Bollywood star Arjun Kapoor as the new co-owner of the club.
Team owner Kartik Wadhawan was excited to have the Bollywood heartthrob on his side. "I am extremely proud to announce and warmly welcome Arjun to the FC Pune City family. In Arjun, we not only have a co-owner but also an accomplished football aficionado and a big fan. Combined with his star power, his knowledge and passion of the sport makes him a perfect fit for our club."
Announcing the new co-owner, FC Pune City CEO Gaurav Modwel said, "FC Pune City welcomes Arjun Kapoor as the co-owner of the club. Arjun is not only a youth icon but also a footballer at heart. His passion for the sport is well known and he is a very astute observer of the game. His involvement with the club will surely give an impetus to us to connect with a larger audience across the state as well as nationally."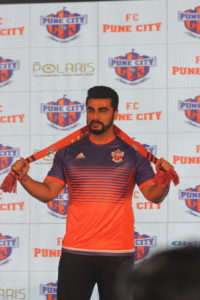 After signing the dotted line, co-owner Arjun Kapoor said, "Ilove football and have grown up watching and playing the sport. I still actively play with my friends, who also are co-owners at various clubs in ISL. What FC Pune City as a club is doing with football is tremendous and it seemed a natural fit for me to join them in their endeavour to develop a professional eco-system of football across Maharashtra. Our collective enthusiasm is in creating a special and aspirational football team."
Besides the first team in ISL, FC Pune City is the only club in the leagueto have a full-fledged residential academy set up and boasts of having three junior teams (U-18; U-16; U-14) and a Women's team.
About FC Pune City: FC Pune City is an Indian Super League football team based out of Pune, Maharashtra. The club is co-owned by The Rajesh Wadhawan Group and Bollywood star Arjun Kapoor. The club was founded in 2014 and its home ground is the Shree Shiv Chhatrapati Sports Complex in Balewadi, Pune. The club is committed to making a difference not just at the senior level but also at the grassroots level of football in India.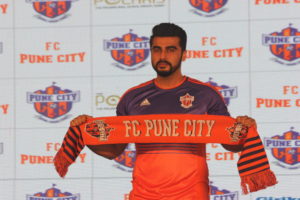 For regular updates on FC Pune City, please follow on
Facebook: FCPuneCity
Twitter: @FCPuneCity
YouTube: FCPuneCity
Instagram:FCPuneCity
Google+: FCPuneCity