by Suman Gupta
Watch the culinary maestro whip up favourite dishes of prominent personalities from round the globe on 'Food Memoirs with Hemant Oberoi'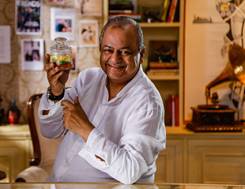 Mumbai, October, 2017: Have you ever wondered what your favourite Hollywood celebrities gorge on when they visit India? Culinary legend and renowned restaurateur Chef Hemant Oberoi will spill-the-beans on the signature recipes that he curated for Brad Pitt, Angelina Jolie, Barack and Michelle Obama, Rishi and Neetu Kapoor, George and Laura Bush, Margaret Thatcher and John Major on his show 'Food Memoirs with Hemant Oberoi'. The show marks his debut on the small screen and will air on Living Foodz, starting October 18. The premium lifestyle channel has collaborated with Bajaj Electricals for the show.
With a formidable career spanning over four decades, Chef Hemant Oberoi has introduced Indian diners to several international cuisines. His knives have carved the evolution of the hospitality industry in India. On 'Food Memoirs with Hemant Oberoi', he will reveal some of his closely-guarded recipes and share the inspiration behind the innovative, state-of-the-art dishes that he is known. This will include unique delicacies such as Quinoa Chaat, Chocolate Shawarma, Black Truffle Risotto, Chicken Tikka Fondue and Pani Puri Avocado Carpaccio. Chef Hemant will intersperse the show with anecdotes and personal experiences from his visit to destinations such as Vietnam, Switzerland and Peru.
Sharing his experience as a television host for the first time, Chef Hemant says, "I am excited to collaborate with Living Foodz on this unique project and share some of my most cherished memories. The show gave me the opportunity to take a nostalgic walk down memory lane and reminisce about my encounters with Head of States to celebrities, as well as some enriching travel experiences. 'Food Memoirs' reflects my passion for cooking and experimenting with food. I look forward to the launch of the show!"
"We are excited to bring Chef Hemant on board and introduce a landmark show in the premium lifestyle space in collaboration with Bajaj Electricals. Chef Hemant's wealth of experience and culinary expertise makes him one of the most celebrated Chefs in India and internationally. For the first time ever, viewers will get the chance to watch him up, close and personal as he shares fascinating stories and experiences. He will showcase several  innovative dishes, right from  their conceptualization to execution. The show will definitely strike a chord with food connoisseurs across the country", says Amit Nair, Business Head, Living Foodz.
Join Chef Hemant Oberoi as he opens up a treasure trove of exquisite recipes on 'Food Memoirs with Hemant Oberoi' every Wednesday and Thursday at 8 PM. on Living Foodz, starting October 18.