by Suman Gupta
Strengthening its commitment of building a platform for independent music in India, Sennheiser, the 70-year old German audio brand, announced the winner for Sennheiser Top 50 Season 3 basis the on-ground grand finale held at Hard Rock Café, Mumbai. Sennheiser raised the stakes this season with the first ever and much awaited zonal finales. Our top 4 finalists from East, North, West and South- Avora Records, Knight Shades, The Family Cheese and When Chai Met Toast were judged by none other than leading stalwarts of the music industry- Shankar Ehsaan Loy, Raghu Dixit and Papon.
 From a compelling 500 entries, the brands that were crowned the top 4 zonal finalists were- When Chai Met Toast (South), The family Cheese (West), Knight Shades (North) and Avora Records (East). The grand finale evening saw the top 4 finalists battling it in the presence of a cheering crowd and music maestros of the country. Apart from the performance by the top 3 bands, Mumbai also witnessed a soulful performance by none other than The Raghu Dixit Project and Parvaaz (Sennheiser Top 50 Season 2 winner). Avora Records turned out to be the crowd favorite and the judge's choice to grab the No. 1 spot, followed by When Chai Met Toast, The Family Cheese and Knight Shades. Avora Records won the trophy to be the most coveted band in India, bagged prizes worth 20 lacs and got a 2-year endorsement by Sennheiser which will give them give them access to Sennheiser gear by being the face of Sennheiser for the next year.
Commenting on the success of Sennheiser Top 50 Season 3 Grand Finale, Mr. Vipin Pungalia, Director, Sennheiser Professional segment said, "We are so thrilled to see all that we have achieved in Season 3. We wanted to make it bigger and better with the zonal finales and the number of entries we received this year were a proof of how much this property has grown since its first edition. It gives me immense happiness to see our finalists perform with such passion. Our heartiest congratulations to Avora Records for winning the title of the most coveted band in India."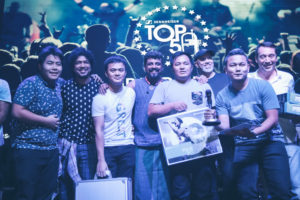 Commenting on their journey with Sennheiser Top50 Season 3, Shankar-Ehsaan-Loy, renowned composer and singer trio, said "We were thrilled to see our top 4 finalists perform with such zeal, proving the amount of talent there is in our country. All our finalists were performing to their best capabilities and we could see them enjoy every moment of it. Great effort by Sennheiser to bring the independent music scene to the forefront and providing a platform for the young artists/musicians."
Popular singer & composer, Raghu Dixit commented "I have come across many bands, and the talent the finalists showcased is undeniably impressive. The Grand Finale was a huge success and was a fantastic experience. I did not just get to judge it but also had the privilege of performing in front of such a cheering crowd. Sennheiser has raised the bar with the third season and I can't wait to see what comes next!"
 Popular Singer & Composer, Papon, expressed his excitement saying, "When I started out with this journey, I had said that I believe music is present across all corners of the country and today I can confidently say that I was right! Look at the kind of talent we have witnessed! Not just the top 4 but the immense talent that all the bands have showcased is inspiring. The journey has helped me meet new people, experience their passion, and understand their music. It's an experience I will always cherish!"
 Commenting on their win, Avora Records said, "This experience has been nothing short than amazing! From 500 bands that participated being chosen amongst the top 4 and now bagging the title of the most coveted band in India gives us immense happiness. When we started out on this journey we were really looking forward to what Sennheiser has in store for us. This platform has helped us recognise our own capabilities by giving us the required push to create a name in the music industry.  The cherry on the top for us has to be associated with a brand like Sennheiser for the next 2 years. We can't wait to take the music industry by storm!"
 About Sennheiser : Audio specialist Sennheiser is one of the world's leading manufacturers of headphones, microphones and wireless transmission systems. Based in Wedemark near Hanover, Germany, Sennheiser operates its own production facilities in Germany, Ireland and the USA and is active in more than 50 countries. With 19 sales subsidiaries and long-established trading partners, the company supplies innovative products and cutting-edge audio solutions that are optimally tailored to its customers' needs. Sennheiser is a family owned company that was founded in 1945 and which today has 2,750 employees around the world that share a passion for audio technology. Since 2013, Sennheiser has been managed by Daniel Sennheiser and Dr. Andreas Sennheiser, the third generation of the family to run the company. In 2015, the Sennheiser Group had sales totalling €682 million.http://www.sennheiser.com    Sennheiser Electronics India Pvt. Ltd.