Will be the title sponsor for the NavratriMahotsav 2017 to be held at Late ShriPramodMahajan sports complex, Borivali
by Suman Gupta
Mumbai, August 22, 2017: Ruparel Realty today, announced their association with FalguniPathak who will captivate the predominantly Gujarati suburb of Borivali this Navratri – 2017. FalguniPathak will be performing live for 9 consecutive days at Late ShriPramodMahajan sports complex of Borivali enthralling the audience in the festive essence of Navratri. The event is being organized by Showbizz and Widespan Entertainment and is anticipated to be the grandest Navratri event in Mumbai. With Ruparel Realty as the title sponsor,FalguniPathak, the 'Queen of Dandiya' as prevalently known by her fans will perform live amongst 20,000 to 25,000 audience each day in the festival that will run from September 21 to September 29, 2017.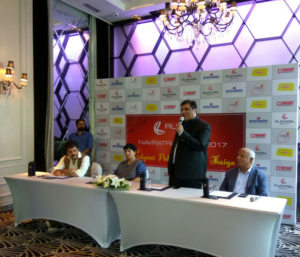 MrAmitRuparel, Managing Director, Ruparel Realty said "Today's organizations are progressively recognizing festivals to promote a sense of bonding and to show their respect to local culture. Ruparel being a secular company believes in celebrating all festivals with fervor and enthusiasm. We have a lot of customers who are zealous about Navratri as a festival.Dandiya is an occasion to celebrate with families; it gives us immense happiness to see families bond over dandiya".
"I am delighted to be associated with Ruparel Realty and perform at Late ShriPramodMahajan sports complex. This is the most awaited time of the year for me as I look forward to soak in the spirit and festivities of Navratri. We are preparing the best of songs that offer great beats for Dandiya and Garba enthusiasts. Specially for this season i have recreated an old Gujarati song "joderejoraaj" and the video is out on my youtube channel. I just focus on the fact that the audience should have a great time." Added Dandiya Queen, FalguniPathak
Navratri being a festival of color and joy attracts a huge number of young crowds from the suburbs. This year the nine day festival is going to be grander with Falguni returning to Borivali again.
About Ruparel Realty
Established in the year 2000, Ruparel Realty, has been constructing numerous Residential & Commercial marvels that have carved a unique niche in the world of construction. The group is currently constructing 2 million sq.ft in the prime lands of Mumbai Metropolitan Region with 2.5 lac delivered sq.ft in Navi Mumbai Metropolitan Region.
Since its inception the company has launched 11 projects, with notable developments like RuparelAriana, Ruparel Iris, Ruparel Orion and Ruparel Sea Palace, RuparelSkygreens, RuparelOptima . In the past 18 months, the group has acquired 25 acres land in Kandivali west, 5 acre lands in Parel and other developments in Western and Central suburbs. With its mass presence across the most desired areas in Mumbai, the group is on the road of substantial success.
We have set our sights on becoming the most promising & dynamic Real Estate firm in the world of construction. Our goal is to consistently provide top-notch services and to bring dreams to life through our craft. Ruparel Realty is one of the very few real estate companies which have projects spread across Mumbai. We believe in the concept of "Home for All" offering homes ranging from 50 lacs to 10 crores. The Group works with the top names in Real Estate like JW Consultants, Aakar Architects & Consultants, ACC and Skyway RMC to ensure timely completion of projects with no compromise in quality standards with latest construction technologies.