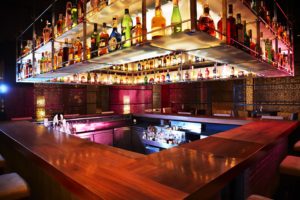 -Sway to the smooth tunes and swinging beats at Vivanta by Taj-President, Mumbai's weekly jam session 'Live Nights at Wink' Thursdays, 8.30-10.30pm –
– Monthly Live at Wink Celebration nights will feature artists from a specific musical genre, playing all the best hits for the crowd –
Mumbai, 17th August 2017: Taj is known as the Bombay birthplace of jazz; Leon Abbey is credited with bringing swing to Bombay in the 1930s, and of course, he was a guest of the Taj. Along with him, Duke Ellington and Creighton Thompson were regulars – delighting the audiences with their big-band performances.
From Thursday 17th August, Vivanta by Taj – President, Mumbai will take on that Taj jazz mantle in its new weekly jam session Live Nights at Wink. Just as the freewheeling sound of big-band dance music would drum through the Taj ballroom of the 1920s, Wink will play host to an improv foursome that will bring together jazz standards with swing, funk, rock, blues, soul and R&B to get people bopping to the beat.
Multi-instrumentalist, composer, and producer, D. Wood on the bass guitar; the talented keyboard player and pianist Rahul Wadhwani; award-winning guitarist, arranger and composer, Adil Manuel on the electric guitar; and the multi-faceted music enthusiast Sudhir Nagpal on the drums, will take guests on a jazz journey. They will be joined by well-known local and international musicians to jam together, to deepen the beats and change the mood with each different set.
Live Nights at Wink is the ideal Thursday night unwind with meandering melodies and signature cocktails to set your weekend mood.
Venue: Wink, Vivanta by Taj – President, Mumbai
Time: 8:30pm – 10:30pm
Date: Thursday 17th August 2017
Discover Wink : Raising the Bar – It doesn't get any better. Wink sets the standard. This high energy bar is unparalleled. Distinctive elixirs, the latest music and mouth-watering eats in a vibrant setting, come together to provide a spirited experience like no other. Wink provides a smooth transition of two interconnected spaces, allowing guests to shift from the high-energy bar area with its glass bar, stone flooring and brick walls to the more intimate, carpeted lounge area in an instant. With no doors or separate entrances to each area, guests can move from one to the other in the 'wink' of an eye. The martinis at Wink are made from fresh ingredients. Fresh fruits, vegetables, herbs and spices are what give 'Winktinis' a fresh twist. Try the fresh herb, fruit and vegetable herb based Detox cocktails.
Discover Vivanta   : Work hard and play hard. Relax and energize. Ideate and confer. Evolve and transform. Revel in a spirit that presents the normal with an unexpected twist. Stylish and sophisticated, Vivanta by Taj delivers premium hotel experiences with imagination, energy and efficiency. Currently comprised of 30 hotels and resorts in India and the Indian Ocean region, Vivanta by Taj is represented across key metropolitan capitals as well as popular holiday destinations like Goa, Kerala, Rajasthan, Sri Lanka and the Maldives. Vivanta by Taj offers an imaginative, vivacious and stylish take on 'cool luxury'. With innovative cuisine, energetic spaces, unique motifs, distinct avatars, the smart use of technology and experiences that seek to constantly engage, invigorate and relax, it appeals to the cosmopolitan world-traveler immersed in a sensory lifestyle.
Stay connected to Vivanta by Taj Hotels & Resorts.