by Suman Gupta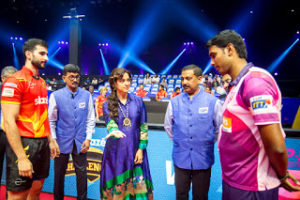 Video HLs – Download link – Sharath Kamal Vs Andrej Gacina 2-1 
Mumbai, July, 2017: Shazé Challengers closed in on a knockout spot even as they trail RP-SG Mavericks 4-8 after four matches in the concluding league tie of the CEAT Ultimate Table Tennis (UTT) at the NSCI in Mumbai on Thursday. Five more matches remain in the ongoing tie.
League toppers Falcons TTC (78 points) and second placed Dabang Smashers TTC (69) have confirmed their spots in the semifinals while DHFL Maharashtra United are currently third on 64.
Shazé Challengers have got past Oilmax Stag Yoddhas (61) to the fourth place currently in the six-team league standings. RP-SG Mavericks brings up the rear.
RP-SG Mavericks opened with a 2-1 lead after Indian ace A Sharath Kamal put it past Croatian world No 46 Andrej Gacina (Shazé Challengers) 11-7, 1-11, 11-7 in the men's singles (Foreign v Indian).
German world No 45 Sabine Winter made it 4-2 for RP-SG Mavericks by winning the first two games in the women's singles (Foreign v Indian) against Mouma Das (Shazé Challengers) but the Bengal lass pulled one back to score her team's second point.
Next up was mixed doubles (Foreign/Indian pair) which RP-SG Mavericks' pair of Sharath Kamal/ Sofia Polcanova won 2-1 (11-7, 11-5, 9-11) but Li Ping and Mouma Das picked a crucial point for Shazé Challengers by winning the third game, even as RP-SG Mavericks led 6-3.
Austrian Stefan Fegerl extended RP-SG Mavericks' lead to 8-4 with a 2-1 (2-11, 11-7, 11-8) win over Gacina in the men's singles (Foreign player category).
In the knockouts, teams will play only upto such time that one team is winner, having secured 14 points.
Earlier in the evening, 1983 ICC World Cup winning captain Kapil Dev and Bollywood star Juhi Chawla graced the occasion. Kapil Dev also successfully took on eight-time national champion Kamlesh Mehta to engage the Mumbai audience in an exciting face-off ahead of the day's first match between A Sharath Kamal of RP-SG Mavericks and Andrej Gacina of Shaze Challengers.
The cricket legend also shared encouraging words with budding stars. He said, "At a nascent stage in your career, make sure you enjoy your game, enjoy your practice sessions and don't let yourself come under any pressure." 
Both the celebrities stayed on to enjoy the matches between RP-SG Mavericks and Shaze Challengers.
After four matches – 
RP-SG Mavericks lead 4-8 against Shazé Challengers 
MS – A Sharath Kamal beat Andrej Gacina 2-1 (11-7, 1-11, 11-7)
WS – Sabine Winter beat Mouma Das  2-1 (11-8, 11-9, 8-11)
MD – Sharath Kamal/ Sofia Polcanova beat Li Ping/ Mouma Das  2-1 (11-7, 11-5, 9-11),
MS – Stefan Fegerl beat Andrej Gacina 2-1 (2-11, 11-7, 11-8
About Ultimate Table Tennis: India's newest franchise sports league Ultimate Table Tennis (UTT) is set for its inaugural season in July 2017 to promote and enhance the sport of table tennis in the country. After the positive impact of India Open 2017, held in New Delhi in February 2017, Ultimate Table Tennis aims to take the sport of table tennis to greater heights. UTT is owned and developed by 11Even Sports Private Limited (ESPL), a Mumbai based company exclusively formed for the promotion and development of the game of Table Tennis in India. UTT will strive to be a world-class league that inspires the youth, entertains and engages fans, drives development at grassroots level and delivers value to all stakeholders.