by Suman Gupta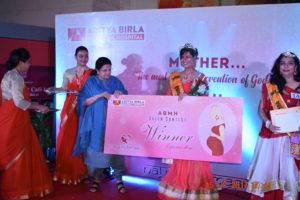 The hospital organized an exciting fashion show for new moms and to-be-moms under the campaign 'Naya Mehmaan'
Contest flooded with applications from participants
Pune – July, 2017: It was a bumpy affair in Pune on Saturday as the city witnessed a joyous event celebrating motherhood. Aditya Birla Memorial Hospital conducted 'The Queen Contest', a unique initiative to bring together new and expected Moms to grace the ramp. The event was held in the premises of Aditya Birla Memorial Hospital, Chinchwad, Pune.
The event was a part of Aditya Birla Memorial Hospital's new campaign titled 'Naya Mehmaan'. The colorful event witnessed more than 80 registrations where only about 30 new moms and moms-to-be were shortlisted to walk the ramp, showcasing the example of confidence and self-reliance to viewers. Registrations to the contest had to be closed a day prior as it was flooded with applications.
The participants beamed with pride as they graced the ramp in their best of attires in front of panel of judges including Smt. Rajshree Birla (Chairperson, ABMH), Mr. Ashwin Kothari (Director) and Rekha Dubey (CEO, ABMH). The event was witnessed by an audience ofmore than 300, including families of the participants.
"Every parent blessed with a newborn goes through this wonderful emotional journey. Aditya Birla Memorial Hospital always comes up with unique campaigns like the Naya Mehmaan to make mothers and mothers-to-be feel special." said Rekha Dubey, CEO, Aditya Birla Memorial Hospital. "This campaign welcomes all the to-be-mothers to experience the care and compassion provided by the hospital which not only begins with prenatal screening but also takes them through a wonderful journey of motherhood which shall leave  everlasting priceless memories." she added.
"I would like to thank Aditya Birla Memorial hospital for arranging such a wonderful and well organized event. This is an inspirational moment for all of us. As a new mother, this achievement is going to be a milestone in my life. My family and I really enjoyed it." said one of the participants.