by Suman Gupta
Zonal director of the NCB shares insights and educates children, parents and teachers on the ills of Narcotics abuse
India's longest running street play "Anth" performed for the 6561st time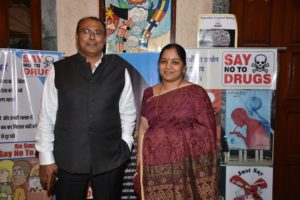 Mumbai, June 2017: Birla Edutech hosted a Narcotic Awareness Drive at Gopi Birla Memorial School on 30th June 2017 which was presided over by Zonal director of the Narcotics Control Bureau Mr. Sanjay Jha and Intelligence Officer Sh. Kulabhushan Singh. There were special performances by Nasha Bandi Mandal Maharastra and ANTH- the longest running street play by Smita Patil Street Theatre founded by Yusuf Qasmi. This play was performed for the 6,561st time during this awareness campaign.
With a growing precedence of drug consumption at an early age as per the National Drug Survey (as early as 12 – 13 years) it is imperative that children are educated on the harmful effects and long term implications on health and wellness. Use of drugs at an early age increases dependency and leads to addiction and other complications which have proven to have a long term impact on children's psychological and  physiological state. These and some other points were the highlight of the program which saw a good participation from the attending students.
Expressing his views on the drive, Mr Nirvaan Birla – Head of Business Development, said, "I have always believed that prevention is better than cure and with the help of this drive we are educating our students about the consequences of drug consumption. Awareness is the largest deterrent to drugs and the biggest motivator for children to lead a healthy and fulfilled life. We are happy that we could associate with NCB in this brave endeavour to generate awareness amongst the youth on the serious repercussions that drug use can have on their lives."
Speaking on the occasion, "Awareness is one of the key element to battling this illness. Knowledge is power, and with factual information about the topic, a student will be more likely to make a fact-based and informed decision and prevent them from using them. Especially the ones that are made to sound harmless but are in reality are very addictive or dangerous to the body" added Deepa Shetty – Principal – Gopi Birla Memorial School
There are addiction signs that a teacher/school or a parent can see in their children, and unfortunately; these are often ignored. The purpose of this drive is to ensure that the parents, the school's faculty and the children themselves know about these possible signs, the ill effects of drug consumption and also the support system available and provided by NGO's and NCB to help those who reach out for help.
Commenting on the drive, Mr. Sanjay Jha – Zonal Director – Narcotic Control Bureau said. "Maharashtra is one of the states with the highest number of Drug related suicides in the country. In 2014, out of 3,647 suicides, Maharashtra alone lost 1,372 lives because of drugs. Such an awareness drive plays a vital role to lower these numbers and educate the youth about the effects of illicit drugs which further helps them make responsible decisions in the future."
About Birla Edutech Limited:Birla Edutech Limited – a Yash Birla Group company started its journey in 2008 to revolutionize education in India, by becoming educational transformers for learners across all educational segments – be it Preschool, K-12 school, Sports education, technological or vocational education. With over eight years of experience in educational zone, Birla Edutech has a complex network of over 50 educational institutions extended across India. The growing network of Birla Edutech has many brands under its umbrella. It includes an extensive spectrum of Pre-Primary schools under the brand name of Globe Tot'ers and Shloka Preschools and K-12 schools under Open Minds and Shloka Schools. Some of its own well-established schools in Mumbai are Globe Tot'ers- a Birla Preschool (Nepean Sea Road) and Gopi Birla Memorial School (GBMS), and Globe Tot'ers- a Birla Preschool in Nashik. Besides, Birla Edutech is also extensively involved in Teacher Training through its vertical of Birla Institute of Teacher Training. Birla Edutech also works towards Whole/ Partial School transformation projects across the country.