by Suman Gupta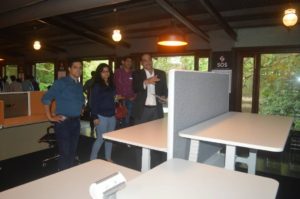 Mumbai, June, 2017: Spacewood Office Solutions (SOS), a venture of Spacewood group is one of the fastest growing Office Modular Furniture manufacturers in India that offers comprehensive & innovative office space solutions.
In pursuit of advancing with the trend in office work environment, SOS unveiled ANND- by Tim Wallace. "ANND" is a flexible furniture system based on a collection of a few intelligent components capable of creating fundamentally different workstations. "ANND" can accommodate collaborative and individual work, privacy and communication, panel based and freestanding requirements.
Office work is no longer about fixed reporting, location, or postures. Mobile devices and information technology has effected a paradigm shift and the work environment has begun to evolve from fixed uniform spaces into a broader range of work settings. Released from the shackles of designated desks SOS has the freedom to work whenever, wherever and however best suits the task.
Mr Nitin Sudame, Co-Founder & Director, Spacewood Office Solutions, said, "We are very proud to present ANND, a suite of office furniture skilfully designed by Mr. Tim Wallace, renowned UK Designer". Investing in a well-designed furniture system is an asset that creates an inspiring work environment for any office team. SOS offers product range which includes workstations in desking and partition form, Cabin Furniture Solutions, Full Height Partitions, Worksmart Range of lose furniture and executive chairs. He further added, Creative designers work together with Team SOS for creating and refining indigenous product offerings that are sensitive to the workplace needs and also give SOS the design edge.
SOS's state of the art manufacturing plant is based in Nagpur, Logistically most well connected to major parts of India. For quality and precision they have fully automated production line with European CNC machines, automated drilling, cutting, routers and edge-banding machines. Metalworking section is equipped with press shop, paint shop, metal pre-treatment and Wagner powder coating facilities. SOS has the capacity to produce more than one lakh workstations in a year.
About Spacewood Office Solutions (SOS): spacewood is India's leading manufacturer of Modular Furniture. It offers complete solutions for Modular Kitchens, Home & Office furniture. It also offers solutions for various institutional needs. It has state of the art factory strategically located in Nagpur, logistic centre of India spread over 15 acres. It is equipped with most modern European technology with Specialization in Membrane pressing, Lacquering and Melamine lamination technology. It manufactures 100,000 Kitchen cabinets, 30,000 bedroom sets and 50,000 Works stations every year. The products are designed by Professional designers with International design expertise and collaboration. First Indian company attracted FDI from Sumitomo Forestry, Japan. This alliance allowed the company to introduce latest technology and products in the Indian market. SOS complies with IGBC requirements of green building certification.