by Suman Gupta 
The Chief Tasting Officers will develop new flavors appealing to the Indian palate, under the mentorship of renowned chefs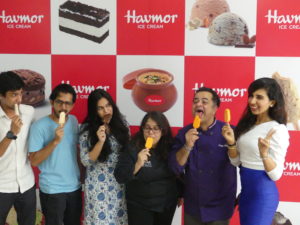 Mumbai, June , 2017: Havmor Ice Cream Ltd, today announced the successful culmination of their latest initiative, "The Coolest Summer Job" at an event in Ahmedabad. The event witnessed the felicitation of the 'Chief Tasting Officers' (CTOs) as they were welcomed to the company by Havmor board members. The event celebrated the induction of the candidates and the first mentoring session by renowned chefs, Vicky Ratnani and Sanjana Patel. The CTOs were briefed in detail on the ice cream manufacturing process, right from sourcing ingredients, technological know-how all the way to the manufacturing process of pure milk ice creams at Havmor.
Devashree Sharma (Mumbai), Saimandar Waghdhare (Mumbai), Rohini Basu (Delhi) and Sahej Chopra (Patiala) are the four deserving candidates that have been selected from over 4400 entries. To provide an in-depth knowledge on the significance of taste, texture and flavor, the four new employees were given their first mentoring session by Chef Vicky Ratnani and Chef Sanjana Patel. Chef Vicky Ratnani, spoke at length about the importance of creativity in developing a new flavor and then fusing it with local ingredients, while Chef Sanjana focused on the ice cream texture and presentation. The Chief Tasting Officers will be given detailed mentorship and will develop new flavors for the coming period.
Talking about the success of the campaign at the event, Ankit Chona, Managing Director, Havmor Ice Cream Ltd. said, "The Coolest Summer Job is a significant initiative and a matter of great pride for us at Havmor. We felt the need to delve deeper into understanding the local palate and this initiative has enabled us to build strong in-roads with the consumer. At Havmor innovation is of prime importance, as we constantly work towards creating products that consumers want and value, this spirit has helped us break barriers and further venture into bringing four new officers on board who will share a consumer perspective with us. We welcome the four candidates to the Havmor family and wish them ample success in their career."
The campaign that received tremendous response from the consumers across cities, will now venture into the next innovation phase, by empowering the Chief Tasting Officers to create flavors that appeal to the Indian palate. A path breaking initiative by Havmor, where for the first time in the country, a manufacturer has provided a platform for consumers to actively participate in the process of ice cream creation. The four officers, kick started their journey today, with a successful mentoring session that highlighted techniques to successful ice cream creation. Post three days of immersion into the ice cream making process and mentorship the four officers will launch new ice cream flavors in the market.
Commenting on the winning entries and the initiative, Chef Vicky Ratnani said, "It has been a privilege to be part of a forum where one can mould and mentor young enthusiastic minds. This session is an opportunity for the four candidates to enhance their skills and explore unlimited possibilities by working with the best in the business. I congratulate the winners and Havmor for creating this platform and providing an opportunity for these candidates."
Further Chef Sanjana added saying, "Havmor has created a great learning platform for these young officers through this initiative. It is going to be a learning experience for them, as they embark on this journey with Havmor, they receive an opportunity to gain recognition as inventors of ice cream flavors in the Indian market. Since ice cream is gaining popularity in the dessert category and is consumed largely irrespective of weather conditions, there is a larger scope for these young minds to showcase their creativity and win the hearts of the Indian consumers."
Speaking at the event, Chaitanya Rele, VP – Head of Marketing, added, "Our nationwide job hunt for ice cream tasting and creating has been a great success. With four new 'Chief Tasting Officers' on board, we look forward to launching new flavors across our 200 ice cream parlors and 40,000+ retail outlets."
The campaign was launched publicly in May 2017 with an aim to create a new ice cream flavor directly involving the consumer.  The campaign created curiosity and received a tremendous response online as well with over 1.7 million digital impressions and over 4400 entries.
About Havmor: Havmor, a renowned ice cream & food brand headquartered in Ahmedabad, Gujarat has delighted many with its 40,000+ ice cream outlets spread across Gujarat, Maharashtra, Rajasthan, Madhya Pradesh, Goa, Delhi, Punjab, Haryana, Uttar Pradesh, Karnataka, Telangana & Chhattisgarh. Havmor offers a wide range of over 160 ice creams, each manufactured at its hi-tech plants which are ISO 22000:2005 certified. Havmor has also been honored with prestigious Times Food Award for being the best ice cream brand for nine consecutive years! It has also won the maximum number of awards in "The Great Indian Ice Cream Contest 2016" organized by Danisco Dupont in Delhi.