by Suman Gupta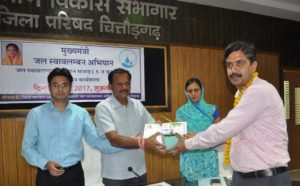 Chittorgarh, 13th June, 2017:  Wonder Cement's contribution in MJSA is appreciated by Govt. of  Rajasthan in a felicitation programme organised by District Water Resource Department – Chittorgarh on 9th June 2017 at DRDA Meeting hall.
This appreciation certificate and a tree sapling was given by Shri. Naveen Mahajan, IAS (In-charge secretory of Chittorgarh and Secretary & Commissioner of Panchayati Raj Department, Rajasthan), Smt. Leela Jat, (Jeela Pramukha) and Sh. Inderjeet Singh, IAS (District Collector) to Hemendra Singh Jhala, Dy. Manager – CSR on behalf of Wonder Cement Ltd.
MJSA is flagship programme by the Govt. for making Rajasthan self-reliant on water requirement. This is phase – II of campaign. Wonder Cement Limited has contributed generously & judicially for the development of water conservation structures in both the phases.
Wonder Cement Limited has also constructed rain water harvesting structures, plantation in 111 hectare and developed Panchfal Udhyaan (community orchard) in nearby villages.
 About Wonder Cement: Wonder Cement Limited is a leading cement company catering to markets across the country  predominating the states of Rajasthan, Gujarat, Punjab, Haryana and Uttar Pradesh. Established in 2010 with its headquarters in Udaipur, Rajasthan, Wonder Cement Ltd is known for its high quality of products that reflect the enriched heritage of its parent company RK Marble, a leading name in the marble industry. The company with its plant located at Chittorgarh today produces to its capacity of 6.75 million tons per annum, thus occupying a prominent position in the industry. Special efforts are taken to ensure that the plant upholds the latest environmental norms with the help of a reverse air bag house, ESP and a number of nuisance bag filters remain clean and dust free. The manufacturing unit is established with technical collaborations with Thyssenkrupp and Pfeiffer Ltd. of Germany.  Wonder Cement is planning to further expand its current capacity to 10 million tons by setting up a third production line